No. 6 Texas looks to keep magic going against Oklahoma State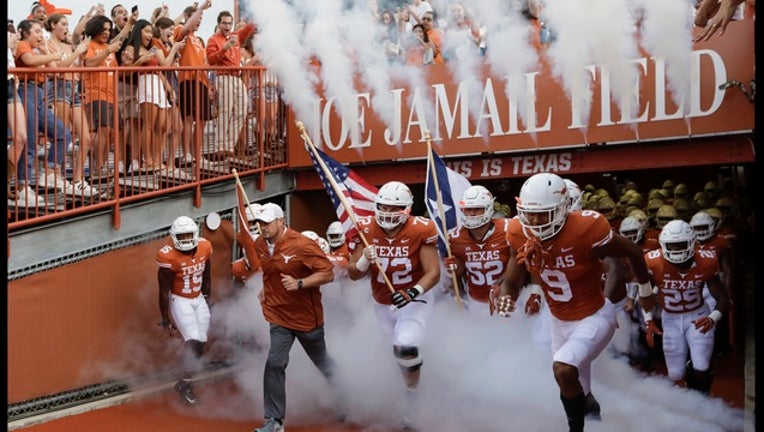 article
STILLWATER, Okla. (AP) - A season that began with disappointment has turned into a possible mission of destiny for No. 6 Texas, with the next challenge coming Saturday night with a game at Oklahoma State.
After losing its opener 34-29 to Maryland, Texas (6-1, 4-0 Big 12) has been rolling along on a six-game winning streak, reaching its highest spot in the AP poll since September 2010. Oklahoma State (4-3, 1-3), which climbed as high as No. 15 in mid-September, has lost two in a row (Iowa State and Kansas State).
Texas coach Tom Herman felt the bye week came at a good time.
"It was a very timely open week, our guys had a chance to take a deep breath," Herman said. "It is completely and utterly inconsequential where we are ranked through seven games of the season. The only thing that matters is what hardware have we taken home and where are we ranked at the end of the season. The only thing we talk about is that we've earned everybody's best shot. That's a cool challenge."
Texas is 8-2 all time in Stillwater against the Cowboys, but Oklahoma State has won three straight in the series, including last season's 13-10 overtime victory in Austin. The Cowboys are also coming off a bye week.
"We tried to look back and wanted to identify where we needed to improve - both sides of the ball and really all three phases - and then implement a plan," coach Mike Gundy said.
Gundy also responded to some criticism that he should give opportunities to some players who hadn't seen much playing time.
"I think people that say that are being somewhat unrealistic," Gundy said. "If there were other guys we thought we needed to look at, we would've already done that. We pretty much know who we have out there."
WILL HE OR WON'T HE?
Texas quarterback Sam Ehlinger is healing from a shoulder injury. If he can't go, Shane Buechele will step in. Buechele, who has 19 career starts on his resume, took over for Ehlinger in Texas' last game, a 23-17 victory over Baylor on Oct. 13, completing 20 of 34 passes for 184 yards and a touchdown.
"We know we've got a great one in Shane ready to go," Herman said. "We've got a ton of confidence in him as well."
DOWN HILL
The contributions of Oklahoma State running back Justice Hill will be crucial. After three consecutive 100-yard games, including 189 against Kansas on Sept. 29, Hill gained just 66 and 41 (on just 11 carries) the last two outings. His Big 12-record streak of rushing touchdowns in 12 straight games also ended Oct. 13 at Kansas State.
BLOCK OUT THE NOISE
After several years of mediocrity, Texas is suddenly managing heightened expectations with only five regular-season games left, a top-10 ranking and lofty postseason hopes.
"It's definitely going to be a test of our maturity," said tight end Andrew Beck, who has 15 receptions for 132 yards this season. "But I think we have the guys that can handle this kind of success that we've been having."
DOUBLE TROUBLE
Texas is one of just six FBS schools with two different receivers with over 40 receptions for the year. Lil'Jordan Humphrey leads the Longhorns with 42 catches for 576 yards and four touchdowns, while Collin Johnson has 41 receptions for 563 yards and five TDs. Humphrey also has a rushing touchdown and a passing touchdown.
HOMECOMING
The Cowboys are celebrating homecoming and the 30th anniversary of Barry Sanders' Heisman Trophy-winning season. Sanders and the team's offensive line will be in attendance, and Oklahoma State will wear throwback 1988 uniforms. Gundy was that team's quarterback.
"I know the game will have a special atmosphere," Hill said, "because it's going to be night time and everyone will be out there excited."