No. 5 Kansas builds big early lead, beats Texas A&M 79-68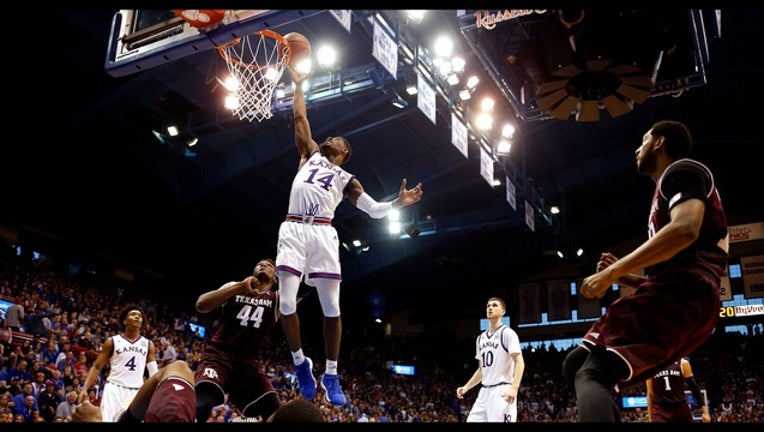 LAWRENCE, Kan. (AP) - Svi Mykhailiuk poured in 24 points, Malik Newman added 15 and fifth-ranked Kansas built a big lead on Texas A&M in the first half before sustaining it most of the way in a 79-68 victory Saturday.
Lagerald Vick added 10 points, and Udoka Azubuike had a couple of rim-rattling dunks, as the Jayhawks (17-4) won their fourth straight in the Big 12-SEC Challenge and 10th in a row over the Aggies.
Tyler Davis had 18 points and nine rebounds to lead Texas A&M (13-8), which dug a 45-27 halftime hole and only managed to climb about halfway out of it over the final 20 minutes.
Robert Williams added 11 points, nine boards and four blocks for the Aggies, who began the season 11-1 with wins over Big 12 foes West Virginia and Oklahoma State. But after ascending to No. 5 in the AP poll, coach Billy Kennedy's club has lost seven of its last nine in a calamitous free-fall.
Texas A&M's only win over Kansas in 22 tries came in 2007, when they were both in the Big 12.
The Jayhawks took control with a 10-0 run midway through the first half, stretching a 20-18 lead into a 30-18 advantage behind the kind of 3-point barrage that has become so common this season.
At one point, they had hit nine of their first 13 from beyond the arc.
Mykhailiuk had three in the first half, part of his 17 points in 17 minutes, as the Jayhawks shot 53 percent from the field and took a 45-27 lead into the break against one of the nation's best defenses.
Kansas kept the pace hot in the second half, creating run-outs every time the Aggies missed a shot - and there were plenty of them. And even when they were forced to set up offense, the Jayhawks managed to get high percentage shots, including a rim-shaking dunk by Azubuike early on.
Azubuike had barreled through Davis before slamming it home, then straddled the Aggies' big man as he dropped back to the floor. He gave him a mean mug, too, that earned him a technical foul.
The Aggies finally clawed within 72-62 on free throws by Davis with 4:40 to go, but Marcus Garrett scored on a driving layup and Azubuike added a baby hook to restore the Jayhawks' advantage.
The Aggies never managed to get within single-digits down the stretch.
BIG PICTURE
Texas A&M tried to establish its size in the paint, but the Jayhawks made up for their lack of size with scrappiness. The Aggies' guards were outhustled to seemingly every loose ball, and that put too much pressure on Davis and Williams to make things happen in a game that hardly suited their style.
Kansas bounced back nicely from a late collapse at Oklahoma, showing a bit more moxie than the Jayhawks have in recent weeks. They had a 15-2 edge on fast-break points, and they hung with the bigger Aggies on the boards in a positive sign for a team that has struggled to rebound.
UP NEXT
Texas A&M plays Arkansas on Tuesday night.
Kansas visits Kansas State on Monday night.
___
More AP college basketball: www.collegebasketball.ap.org and https://twitter.com/AP_Top25