No. 13 Texas defense smothers No. 18 Iowa State 24-10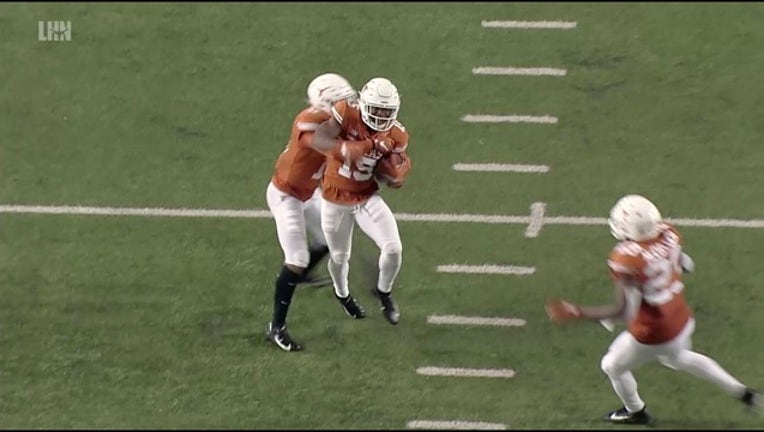 article
AUSTIN, Texas (AP) - The Texas Longhorns are on a late-season stampede toward the Big 12 title game. And given how things are unfolding around them and a sudden resurgence on defense, they like where they stand.
Now if only quarterback Sam Ehlinger's throwing shoulder will hold up.
Ehlinger ran for a touchdown and passed for another before leaving with an injury after a hard hit late in the second quarter, and No. 13 Texas smothered Iowa State freshman quarterback Brock Purdy in a 24-10 victory Saturday night that pushed the Longhorns a big step closer to a berth in the league championship game.
Texas (8-3, 6-2, No. 15 CFP) is in second place in the Big 12 and can get to the title game with a win at Kansas next week. Texas hasn't won the Big 12 since 2009. The Longhorns have won eight games for the first time since 2013.
And lurking out there are potential title-game rematches of Texas' wildest games of the year: a 48-45 win over Oklahoma and a 42-41 loss to West Virginia.
Texas can even get to the title game if it loses to Kansas, but Oklahoma beats West Virginia and Iowa State beats Kansas State next week.
Texas isn't ready to talk about those scenarios yet.
"We're overachieving right now. We're winning on toughness. We're winning on grit," coach Tom Herman said. "Coming from where we came from and where this program was ... we've still got a lot of football left to play."
Texas running back Tre Watsons said the Longhorns have to "finish the journey."
"We put ourselves in position to have a shot," Watson said.
Shane Buechele took over for Ehlinger after halftime and his 27-yard touchdown pass to Lil'Jordan Humphrey with 36 seconds left in the third quarter put the game out of reach. Buechele was 10 of 10 for 89 yards.
It was the second time this season Buechele has come after an Ehlinger injury and guided Texas to a win. Ehlinger injured the same shoulder against Baylor.
"Nobody is surprised when Shane comes in and doesn't miss a beat," Herman said.
The Texas defense played its best game in weeks with a mix of blitzes that chased Purdy all night, sacking him five times. The No. 18 Cyclones (6-4, 5-3, No. 16 CFP) also played the first half without running back David Montgomery, who was suspended for throwing a punch against Baylor a week earlier.
Purdy had led the Cyclones to five consecutive wins since taking over the offense, finished with 130 yards on 10 of 23 passing.
"They were the more physical football team," Iowa State coach Matt Campbell said. "We struggled to tackle, struggled to win at the line of scrimmage."
After allowing 114 points and more than 1,600 yards the previous three games, Texas allowed the Cyclones just 225 yards and allowed the fewest points this season.
"People thought we forgot how to play defense," Herman said.
THE TAKEAWAY
Iowa State: The Cyclones melted under the pressure of their biggest Big 12 game in years. The game didn't look too big for Purdy, he just didn't have any help when he needed it. Missing Montgomery for a half was critical because it not only took him off the field in running plays, it further exposed Purdy under a relentless pass rush without him there as an passing outlet or a blocker.
When Montgomery finally got in, he ran for 33 yards on 10 carries and scored Iowa State's only touchdown.
"I learned so much just being out the first half, not being able to stand on the sideline with my guys. I let my emotion overtake the game," Montgomery said.
Texas: Ehlinger's shoulder injury will make Texas nervous. Herman said an X-ray showed no signs of a fracture but there will be more tests on Sunday. Herman said Ehlinger had wanted to get back in the game but pain would have limited any long throws.
The Longhorns at least have the luxury of having Buechele, who was the full-time starter in 2016 and part of 2017. But if Ehlinger can't return next week, Texas fans will remember that Buechele was the starter when Texas lost at Kansas in 2016, a defeat that pushed coach Charlie Strong out after that season.
BIG MAN HUMPHREY
Humphrey keeps using his big body to abuse defenses. He made another move-the-pile catch in the first half when he pushed a pile of seven tacklers about 10 yards. Then he broke two tackles on his touchdown. Humphrey caught the game-winning score the previous week against Texas Tech and now has 70 catches for 1,033 yards and eight touchdowns on the season.
"He's our best player," Herman said.
LOST TITLE HOPES
Iowa State started the game with the same "win and get in" title game hopes Texas did. But the Cyclones' title hopes were dashed with the loss as the potential tie-breaker scenarios would freeze them out.
UP NEXT
Iowa State hosts Kansas State
Texas plays at Kansas, where the Longhorns lost in 2016, next Friday with a berth in the Big 12 title game on the line.
___
More AP college football coverage: https://apnews.com/Collegefootball and https://twitter.com/AP_Top25
___
Follow Jim Vertuno at https://twitter.com/jimvertuno