Mond, Small lead No. 22 Texas A&M to 26-23 win vs. Gamecocks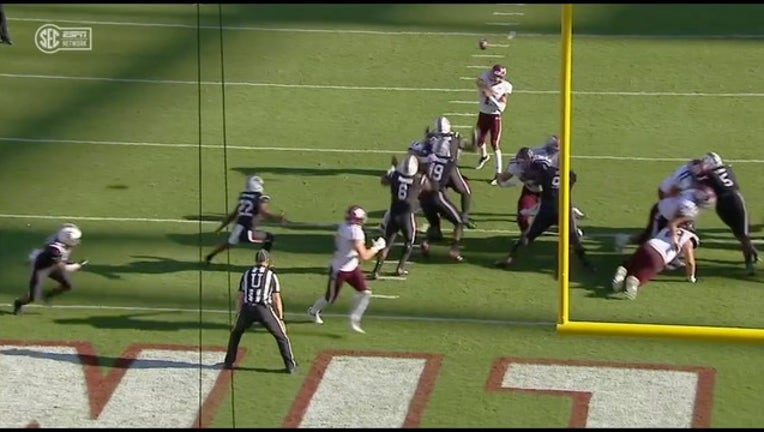 COLUMBIA, S.C. (AP) - Kellen Mond threw for 353 yards and freshman Seth Small had four field goals, including the go-ahead kick in the fourth quarter, to lift No. 22 Texas A&M to a 26-23 victory over South Carolina on Saturday.
The Aggies (5-2, 3-1 Southeastern Conference) won their third straight this season and moved to 5-0 against the Gamecocks (3-3, 2-3) since joining the league in 2012.
Mond also had a 4-yard touchdown pass to Jace Sternberger in the second quarter and, when Small hit a 32-yard field goal on the Aggies' first drive of the second half to go up 16-0, it looked like more than enough to put away the Gamecocks, who managed just 102 yards of offense the first 30 minutes.
That's when Jake Bentley, returning after missing last week's win over Missouri with a knee injury, led a pair of third-quarter TD drives - and the two-point conversions both times.
Bentley had a 22-yard scoring pass to Shi Smith to start the comeback, then hit Chavis Dawkins for a 33-yard touchdown throw off a flea flicker.
Bryan Edwards caught both two-point tries, stretching second across the line before falling out of bounds to tie the game.
Texas A&M responded with the winning drive next time out, moving 45 yards to set Small up for a 39-yard field goal with 9:16 left.
The Aggies sealed things with Trayveon William's 3-yard scoring run with 1:36 left.
South Carolina got a final TD pass from Bentley to Samuel with 48 seconds to go, but could not execute an onside kick attempt. Texas A&M ran out the clock.
Mond got the Aggies going when he found his big tight end Sternberger. The 6-foot-4, 250-pound junior had a 53-yard reception where he dragged safety Steven Montac (some 65 pounds lighter) about 25 yards inside the South Carolina 10.
Small opened Texas A&M's scoring with a 52-yard field goal, the freshman tying his career long kick.
South Carolina struggled with Bentley back behind center in the opening half. The junior, talked about at times this season as an NFL prospect, was 6 of 17 passing the first 30 minutes for 46 yards. He had an awful interception in the end zone to kill off the Gamecocks best scoring chance of the half.
Mond was 25 of 37 passing. His 353 yards was the second most of his career after throwing for 430 yards in a 28-26 loss to No. 4 Clemson last month.
THE TAKEAWAY
TEXAS A&M: The Aggies have found ways to hang in games and overcome opponents at the end. It happened a week ago in a 20-14 overtime victory against previously undefeated Kentucky. And they did it against the Gamecocks when momentum had switched in South Carolina's favor.
SOUTH CAROLINA: The Gamecocks played another in a series of terrible first halves. Bentley had only nine yards passing two weeks ago at Kentucky the first two quarters and South Carolina trailed 23-14 at the break against Missouri before rallying. The Gamecocks must figure out a way to start faster or risk more such defeats this season.
UP NEXT
Texas A&M is off next week and plays at Mississippi State on Oct. 27.
South Carolina is off next week and returns to play Tennessee at home on Oct. 27.
___
More AP college football: https://apnews.com/tag/Collegefootball and https://twitter.com/AP_Top25