Minor has trouble finding strike zone in Rangers debut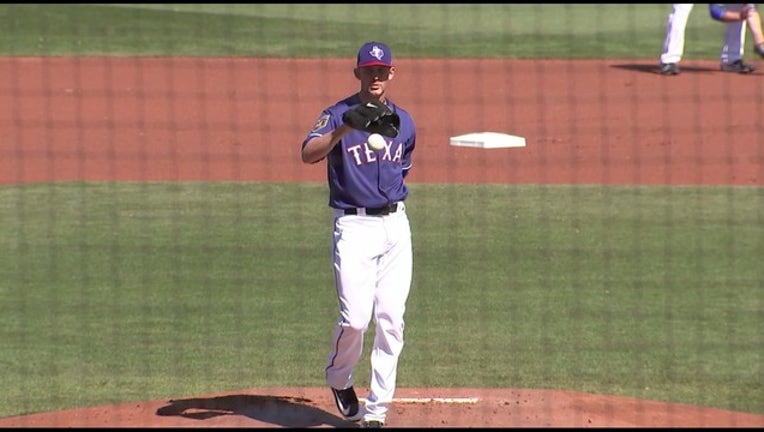 SURPRISE, Ariz. (AP) - Mike Minor has morphed from being kicked out of the Kansas City Royals clubhouse as an impostor to competing for a spot in the Texas Rangers rotation.
Minor was in the Kansas City Royals clubhouse rehabbing from shoulder surgery in 2016 when he was ordered to leave.
"There was a point where I got kicked out of the clubhouse because a security guy thought I was a fan," Minor said Monday. "So that was probably the down point right there.
"I was in street clothes and on the phone and he told me to get out of the clubhouse. He just didn't know me because I wasn't contributing. That wasn't a fun time. He said, 'Sir, you need to get out of here.' That's when I got mad. No, I'm a player.'"
The Rangers signed Minor to a three-year $28 million contract in December after he was an effective Royals' reliever last season. The Rangers signed him to start.
The 30-year-old left-hander was a successful starter for the Braves, going 13-9 with a 3.21 ERA in 32 starts in 2012. He missed the entire 2015 season after surgery for a torn labrum. He did not return to the majors until last season and finished as the Royals' closer with six saves and a 0.66 ERA in September. He struck out 88 and allowed only 57 hits in 77 2/3 innings.
Yet, he yearned to start again.
"I was a starter my whole life," he said. "I liked it and did well, but I still feel like I'm a starter. I want to go back to it and give it a chance.
"I don't feel like I'm a typical reliever with fastball, slider or fastball, curveball. I have four pitches and I feel like three are OK and work on the fourth one," he said.
Minor made his first spring start Monday in a 9-6 loss against the Los Angeles Dodgers. He walked leadoff batter Chris Taylor on five pitches and was removed after 36 pitches, only 17 strikes, in 1 2/3 innings. He gave up two hits, walked two and was charged with two unearned runs.
"It was pretty bad, but just getting some work in," Minor said. "It's spring training. I don't really care about results, right now. I just want to feel good. I feel healthy.
"Mechanically, I feel off, so I'm not really throwing the ball where I want to. I'm just trying to work on that. I've had a lot of bad springs, so I'm not too worried about it. None of my pitches feel good right now," he said. "I know if I'm healthy then I can get guys out if I figure it out in spring and be ready for the season."
While he is a rotation candidate, the Rangers are also looking for a closer. Minor could wind up in that role.
"I'd be open to it, but I feel like only if I wasn't doing well as a starter," Minor said.
Either way he is a major league pitcher, but he might have to bring proof to get past Kauffman Stadium security when the Rangers play there in June.