Mexican soccer player Alan Pulido rescued after kidnapping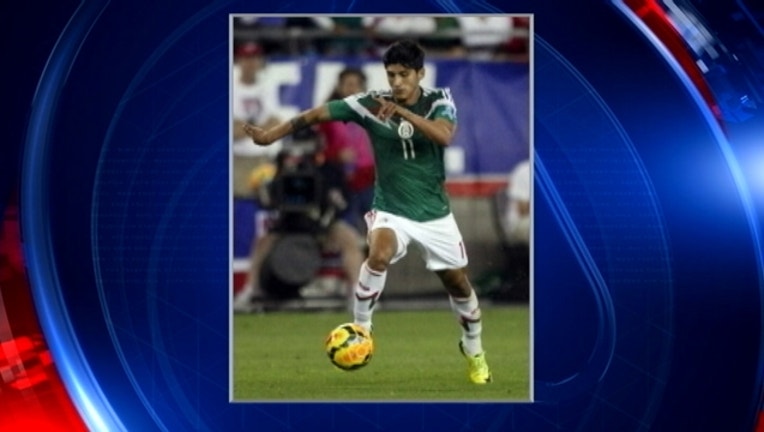 article
CIUDAD VICTORIA, Mexico - Mexican authorities rescued kidnapped soccer player Alan Pulido after he was able to dial an emergency phone number and alert authorities to his location, a state prosecutor said Monday.
Tamaulipas state Attorney General Ismael Quintanilla said in a news conference that a bungle by the kidnappers led to the speedy rescue of Pulido, a 25-year-old forward for the Greek club Olympiakos and national club veteran.
"After midnight Sunday, a 066 call was received from the soccer player Alan Pulido himself in a careless act by his captors.... He was he was able to make a call and ask for help, providing his location," Quintanilla said.
Pulido was nabbed by four armed people on a highway returning from a party at about 11:30 p.m. Saturday. Pulido's family received the first ransom call around 1:30 p.m. on Sunday, Quintanilla said.
Authorities found him in safe house in the southern part of Ciudad Victoria, his hometown, and one of his captors was arrested. Quintanilla said the army, federal and state police participated.
The suspect was 38-year-old from the Gulf coast state of Veracruz, who Quintanilla said was a member of one of the criminal organizations operating in the city.
Following his rescue, Pulido was taken for medical and psychological review and then provided a statement to investigators.
Shortly after his rescue, Pulido appeared outside state police offices wearing shorts and a tank top with a bandaged right hand alongside Tamaulipas Gov. Egidio Torre Cantu. When reporters asked him how he was, Pulido replied: "Very well, thank God."
"The most important thing is that he is here. He is with us," Torre Cantu said.
Pulido declined to answer other questions and was driven away in a sports utility vehicle.
Mexican Federal Police Commissioner Enrique Galindo said in an interview on Radio Formula Monday that there was no violence in the rescue, though Pulido did have a minor injury.
Galindo said authorities believe the kidnappers were motivated solely by the potential financial gain. He speculated that the kidnappers thought they could get a good ransom for a famous soccer player.
"It was a kidnapping," said Galindo, who added that there was a negotiation, presumably a ransom demand from kidnappers, though he did not elaborate. "A ransom was not paid," he said.
His Greek club expressed relief over his safe escape from kidnappers.
"Alan is safe and sound with his family. We thank everyone for their concern and prayers during the difficult moments he has lived," Olympiakos said on its Twitter page.
The kidnapping happened one week before scheduled elections for a new governor. Tamaulipas, which borders Texas, has been plagued with violence in recent years as the Gulf and Zetas drug cartels battle for control. Both organizations also are involved in theft, extortion and kidnappings.
Pulido made his professional debut with the club Tigres of Monterrey, Mexico, but after four seasons there signed a 2014 contract with Olympiakos. He since has been embroiled in a legal dispute with Tigres over whether his Mexican contract remains valid.
He was on Mexico's 2014 World Cup squad, but was omitted from the team for next month's Copa America. National team coach Carlos Osorio recently said Pulido was omitted because of his contract troubles. He had scored three goals in earlier call-ups for Mexico. He scored five goals in limited action for Olympiakos last season.
Another soccer-related kidnapping occurred in 2005, when Cruz Azul's Argentine coach Ruben Omar Romano was abducted in Mexico City. He was captive 65 days before being freed by federal police.