Kuemper makes 28 saves, Kings shut out Stars 3-0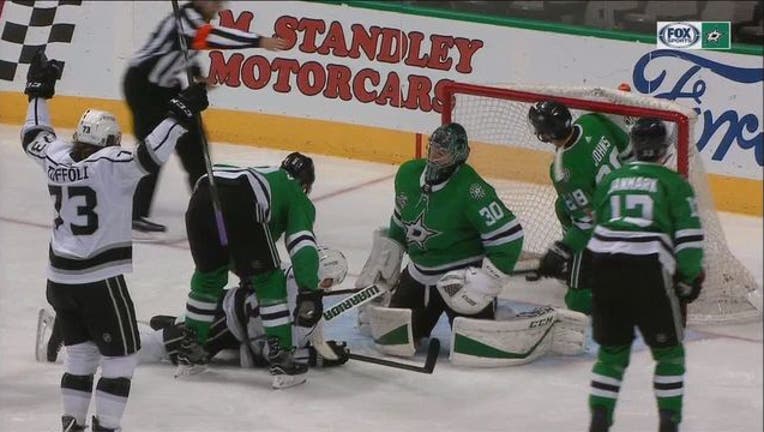 DALLAS (AP) - Darcy Kuemper picked up his ninth career shutout. He handed off the credit to his teammates with the Los Angeles Kings.
Kuemper made 28 saves to help Los Angeles beat the Dallas Stars 3-0 on Tuesday night.
"The guys made it so easy in front of me that it was just fun to go out there and play," he said.
The 27-year-old Kuemper made his second straight start in place of Jonathan Quick, who is out with an upper-body injury. Kuemper got his second shutout and improved to 7-1-3 in his first season with Los Angeles.
"I'm just excited for the opportunity to play a couple in a row," Kuemper said.
Paul LaDue, Drew Doughty and Alec Martinez scored as Los Angeles (27-18-5) earned its second straight win. The Kings are among a group of playoff contenders with 59 points, one point behind Dallas.
Ben Bishop made 39 saves for the Stars (28-19-4), who dropped their second straight game, but retained a tenuous one-point lead for the Western Conference's first wild card.
"I think the desperation of playing a team ahead of us in the standings really brought the best out of us tonight," Kuemper said. "Against a line as scary as their top line is, we hardly gave them anything."
Dallas star Jamie Benn did not record a shot on goal. Alexander Radulov, who came into the night with 16 points in nine games, and Tyler Seguin failed to connect on any of their eight shots.
"I thought tonight we were the worst group of guys out there," Seguin said.
The Stars have been outscored 7-1 in their last two games, including a 4-1 loss to Toronto right before the All-Star break.
"The game before the break (Toronto) came in and checked us hard with no response, and today the same thing," Stars coach Ken Hitchcock said. "So the concern is how do we respond to getting played hard. Instead of getting excited and digging in, we go the other way."
Dallas came up empty on each of its four power plays against the NHL's best penalty killers.
"(Dustin Brown) does the job on the penalty kill, and he's done that all year," Kings coach John Stevens said. "He's critical to the success on the power play, taking a beating in net front."
LaDue scored his first NHL goal just 3:05 into the game. Anze Kopitar skated from behind the net almost to the left point and passed across to LaDue in the right faceoff circle. He sent a wrist shot inside the left goalpost.
"I kind of saw a spot open and just tried to shoot to that part of the net," LaDue said. "It ended up making it through a few sticks and into the net."
Los Angeles increased its lead to 2-0 after Radulov was sent off for holding a stick in the second. Doughty's shot from above the right circle deflected in off Bishop as Stars defenseman Stephen Johns tried to prevent the puck from crossing the goal line.
The Kings were unable to score during a four-minute power play midway through the second. Los Angeles stopped two Dallas power plays in the closing minutes of the period and the first minute of the third.
Nine seconds after Brown left the penalty box, Martinez scored on a snap shot from the left circle.
NOTES: Brown had 11 shots on goal. . Los Angeles has stopped 86 percent of opponents' power plays. ... Quick is on injured reserve. ... LaDue's goal was his first in 24 career games. His father, Jay, got to see the goal because the Kings' dads made the trip to Dallas. ... Stars D Dan Hamhuis played in his 1,000th career game.
UP NEXT
Kings: Visit Nashville on Thursday.
Stars: Travel to Arizona for a game on Thursday.