Kerfoot scores, assists on winner as Avs beat Stars 4-1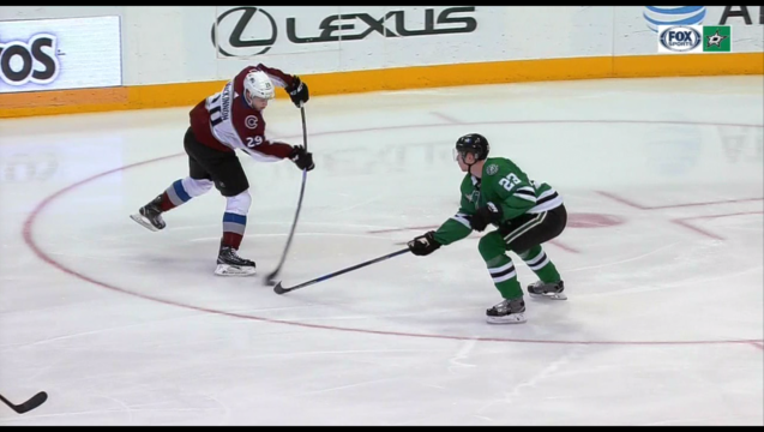 article
DALLAS (AP) - When Alexander Kerfoot looks at the Central Division standings, he'll still see his Colorado Avalanche at the bottom.
On Saturday night, the rookie had a big hand in moving the Avalanche within two points of the Dallas Stars for the second wild card in the Western Conference.
Kerfoot scored in the first period and assisted on Nathan MacKinnon's winner in the third, helping Colorado win its sixth straight game, 4-1 over the Dallas Stars.
"It just seems that every night the teams in our division don't lose," Kerfoot said. "If you're following the standings day in and day out, it can get a little frustrating."
Both teams were playing for the first time in a week. The Stars had won four of their previous five games.
MacKinnon made it 2-1 with 13:27 to play on a snap shot from the inside edge of the left faceoff circle. The puck went off goalie Ben Bishop and into the net.
Blake Comeau scored with 1:40 left, and Mark Barberio added an empty-net, short-handed goal with 13 seconds to play.
Colorado's Jonathan Bernier made 27 saves for his fifth straight win while filling in for injured goalie Semyon Varlamov. Bernier has allowed only six goals in those five games.
"He's been incredible," Kerfoot said. "You can just tell from watching him how much confidence he has. He just stepped in when (Varlamov) got hurt."
Jamie Benn had tied it with a rebound goal in the second period.
Dallas had chances to score during two power plays to start the third, but Bernier and Colorado's penalty killers stopped the Stars. Eleven of his saves came during power plays.
"Game turned on the missed power play opportunities in the third period," Dallas coach Ken Hitchcock said. "When you get back to back power plays like that and you have that many quality looks, you're hoping that one of those goes in."
Colorado coach Jared Bednar credited his goalie.
"(Bernier) was really good, especially in the third period when we needed him on some of those penalty kills. For our PK to come up big and kill all four of those off tonight was excellent."
Colorado took a 1-0 lead 14:09 into the first period. Kerfoot skated down the left side to low in the faceoff circle and lifted a snap shot over Bishop.
"It was just a good play by (A.J. Greer) to chip me the puck up," Kerfoot said, "and I think their D-man was a little flat-footed, so I tried to take it to the net."
Dallas outshot the Avalanche 9-6 in the first. On the Stars' best chance, Bernier stopped Benn's backhand on a breakaway.
The Stars won a challenge that disallowed an apparent Colorado goal at 7:03 of the second period. Referee Tim Peel announced that there had been "significant contact" with Bishop by Comeau. Bishop was down behind the goal when Matt Nieto appeared to tip a pass into the empty net.
"I liked our team's composure when our goal got taken away," Bednar said. "You've got to be able to stay composed through some of those calls, and find a way to get the job done."
NOTES: Colorado's Nikita Zadorov had two assists. ... During a six-game points streak, MacKinnon has 13 points (four goals, nine assists). . The Avalanche won the season series, three games to two. ... The Avalanche have successfully killed 45 of 47 power plays in 15 games. . The Stars won 68 percent of the faceoffs, including 10 of 11 taken by Benn. ... Hall of Fame goalie Ed Belfour dropped the ceremonial first puck as the Stars and their fans continued to recognize the top players during their 25 years in Dallas.
UP NEXT
Avalanche: Begin a three-game homestand on Monday night vs. Anaheim.
Stars: Play at Boston on Monday night to open a four-game trip.
___
More AP hockey: https://apnews.com/tag/NHLhockey