Karlsson scores in overtime, Senators beat Stars 3-2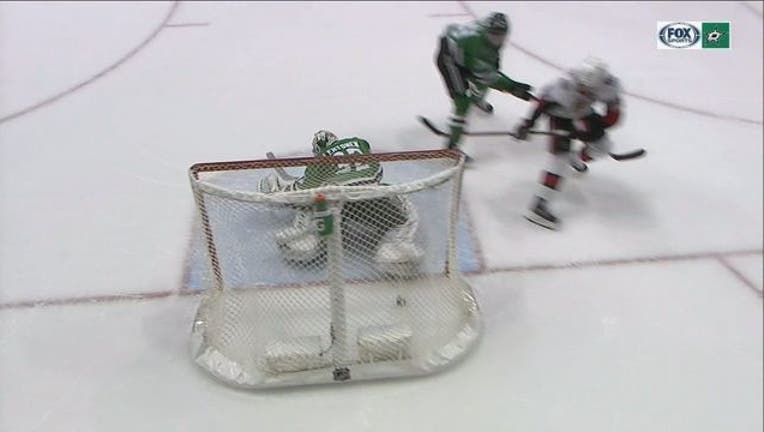 DALLAS (AP) - Craig Anderson was in good spirits after Erik Karlsson's goal 2:19 into overtime lifted the Ottawa Senators over the Dallas Stars 3-2 in overtime on Monday night.
Anderson, who made 31 saves, spoke tongue-in-cheek about 3-on-3 play in OT and even threw in a Scandinavian pun.
"I think 3-on-3 is one of our strong suits. Maybe we should try to take coinciding penalties throughout the game and get 3-on-3 going in the regular game.
"(Karlsson) has the breakaway speed, finds a way to finish even though he's Swedish."
Dallas appeared to have a chance to score the winning goal, but Devin Shore couldn't get to John Klingberg's pass in front of an open net. The puck went back to the blue line, where Karlsson beat Tyler Pitlick to the puck and skated in to beat goalie Kari Lehtonen.
Stars goalie Ben Bishop left because of a lower-body injury after making 12 saves in the first period. Lehtonen replaced Bishop and had 15 saves. Bishop is expected to miss at least two games.
"Tonight Erik was outstanding and our goalie was outstanding," Senators coach Guy Boucher said. "That's what you get when the two most important players on the team are at their best, that's when we're at our best."
Boucher was happy that his team finished 2-2 on a week-long road trip.
The Stars have tied the score in the final three minutes of regulation in the last three games but won only one in overtime. They could have extended their lead for the first wild card in the Western Conference to more than three points over Los Angeles.
Dallas' Tyler Seguin scored twice, on the power play in the first period and from the top of the right faceoff circle with 1:02 left in the third period to tie it.
"We shouldn't be waiting for the last two, three minutes to start going," Seguin said. "That's a point that should never have not been ours.
"I think we played that team like where they are in the standings (seventh in the Atlantic Division). I think we forgot that we're still in the NHL and every team's good with the parity in this league."
Goals by Mike Hoffman on the power play in the second period and Matt Duchene in the third gave Ottawa a 2-1 lead before Seguin tied it with his 36th goal of the season.
Seguin first scored from the left of the net on a narrow angle. His shot went in off Ottawa defenseman Ben Harpur's skate.
Play was stopped with 11:05 left in the first period after Bishop and Dallas defenseman Dan Hamhuis fell in a heap in front of the goal. A trainer attended to Bishop, who stayed in the game but didn't return for the second period.
"We picked up some more injuries and we've got to move along quick," Stars coach Ken Hitchcock said.
Dallas will be without Bishop, defenseman Esa Lindell (who missed his first game this season) and checking-line center Radek Faksa for Tuesday's game at Central Division-leading Nashville.
Ottawa cashed in on its second power play of the second period just two seconds before the period ended.
Mark Stone passed from the left faceoff circle across to Hoffman below the edge of the right circle. His shot went off the sprawling Lehtonen's upper left arm and into the net.
NOTES: Duchene has 33 points (13 goals, 20 assists) in 35 career games vs. Dallas. ... In the last six games, Seguin has seven goals and four assists. ... Ottawa RW Marian Gaborik returned after missing two games with an undisclosed injury. ... The Senators had killed 13 of 14 penalties in the previous six games. Dallas had been 17 for 18 over five-plus games.
UP NEXT
Senators: Return home to meet Buffalo on Thursday.
Stars: Play at Nashville on Tuesday. The Predators have won eight straight.
___
More AP hockey: https://apnews.com/tag/NHLhockey