Jazz edge Mavericks 97-90 for 12th win in 13 games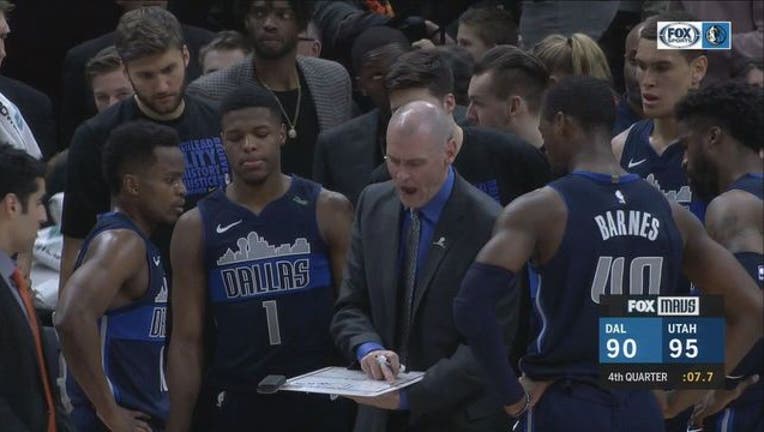 article
SALT LAKE CITY (AP) - Donovan Mitchell had 25 points, five rebounds and five assists, and the Utah Jazz beat the Dallas Mavericks 97-90 on Saturday night for their 12th win in 13 games.
Derrick Favors scored 14 points for Utah (31-29), which had won 11 in a row before Friday night's 100-81 loss to Portland. Rudy Gobert added 13 points and 10 rebounds.
J.J. Barea scored 17 points for lowly Dallas, and Dirk Nowitzki had 12 points and 10 rebounds. The Mavericks (18-42) lost for the 14th time in 18 games.
After tying it up three times in the fourth quarter, the Mavericks finally took an 87-85 lead on a jumper from Barea. But Utah answered with an 8-0 run, punctuated by a Gobert dunk, to go ahead 93-87 with 2:32 remaining.
Utah strung together an 18-6 run to take a double-digit lead before the end of the first quarter. Jae Crowder drove for a pair of baskets and pulled up for a 3-pointer to help fuel the surge. His third basket gave the Jazz a 33-18 lead.
Dallas erased Utah's advantage before halftime. Doug McDermott scored back-to-back baskets and Barea followed with a layup to ignite a 15-0 run for the Mavericks. Dwight Powell gave Dallas its first lead on a pair of free throws and then finished off the run with a hook shot to put the Mavericks ahead 49-42.
Utah missed 11 of 13 shots to open the second quarter before closing out the half on an 11-1 run. The Jazz took a 53-50 halftime lead after Mitchell capped the spurt with his second 3-pointer of the night.
TIP-INS
Mavericks: Barea made his 500th 3-pointer with Dallas. He is just the eighth player to reach 500 3-pointers with the team. . McDermott scored nine of his 12 points in the second quarter.
Jazz: Joe Ingles recorded his 150th 3-pointer of the season in just 60 games. Ingles is No. 3 among Jazz players for most 3-pointers in a single season, trailing only Randy Foye (178) and Rodney Hood (161). ... Utah outscored Dallas 11-0 in fast-break points during the first half and finished with a 15-3 advantage.
UP NEXT
Mavericks: Host the Pacers on Monday.
Jazz: Host the Rockets on Monday.