Gilder with 15 as Texas A&M wallops South Carolina 83-60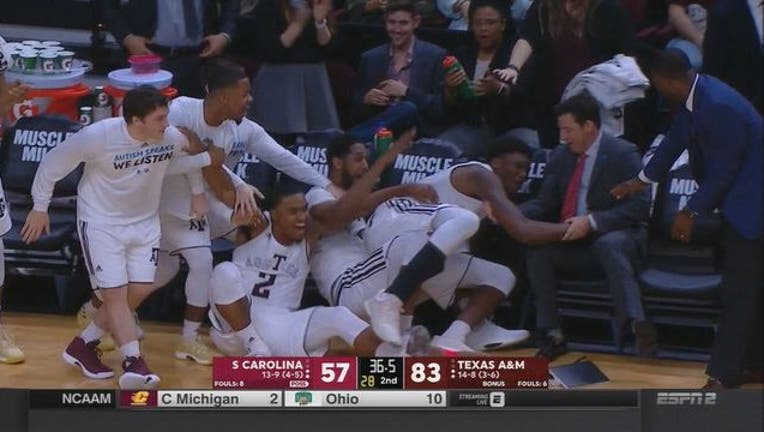 COLLEGE STATION, Texas (AP) - Junior guard Admon Gilder scored 15 points and Texas A&M dominated South Carolina from the start, winning 83-60 on Saturday in Reed Arena.
The Aggies (15-8, 4-6 Southeastern Conference) led 49-27 at half, in shooting 63 percent (17 of 27) from the field in the first 20 minutes. The Gamecocks (13-10, 4-6) shot 21.1 percent (8 of 38) in the same span, as A&M blasted to the 22-point lead. A&M finished 29 of 55 from the field, good for 53 percent.
Justin Minaya scored 16 points and grabbed seven rebounds to lead the Gamecocks.
A&M sophomore forward Robert Williams collected five blocks, to go with 11 points, and the Aggies' 11 total blocks were one shy of the team record of 12 set in 2013 against Mississippi State. A&M dominated South Carolina in points in the paint (40 to 18) and on the fast break (17-4).
BIG PICTURE
South Carolina: The Gamecocks looked a long way from their Final Four appearance of last season in the blowout loss. South Carolina entered the game at .500 on the road in SEC contests, but wasn't in this one from the start. The Gamecocks are trying to make the NCAA Tournament in consecutive seasons for the first time since 1997-98.
Texas A&M: The Aggies looked like the team that had risen to No. 5 nationally leading into SEC play, before they lost their first five league games because of injuries and suspensions. Performances like the one on Saturday, despite A&M still owning a losing record in SEC action, are why analysts like ESPN's Joe Lunardi project A&M in the NCAA Tournament as a 10th seed as of this week.
UP NEXT
South Carolina: The Gamecocks are on the road for a second straight time when they play at Arkansas on Tuesday.
Texas A&M: Following consecutive home games, the Aggies' schedule strengthens in a hurry with a game at league-leading and No. 11 Auburn on Wednesday.