Fine, Torrey lead North Texas past Rice 41-17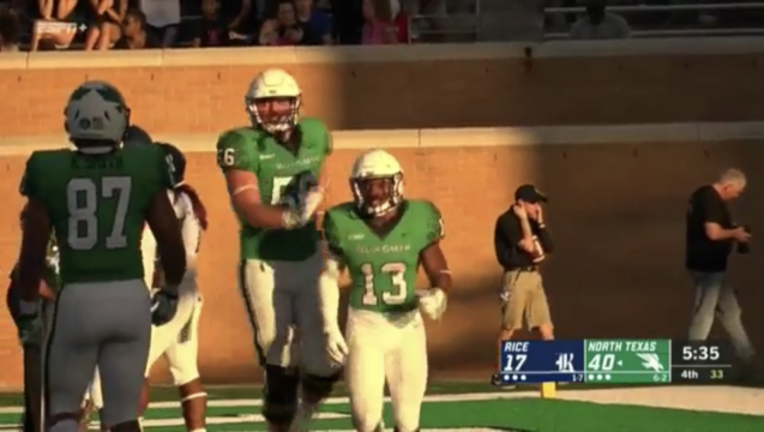 article
DENTON, Texas (AP) - Mason Fine passed for 333 yards and two touchdowns and DeAndre Torrey ran for 130 yards and scored four times as North Texas rolled to a 41-17 victory over Rice in a Conference USA West Division matchup on Saturday.
Rico Bussey Jr. totaled 145 receiving yards, including a 68-yard TD catch from Fine that gave the Mean Green (7-2, 3-2) a 10-7 lead after one quarter. Torrey scored on an 11-yard run early in the second quarter to stretch the lead to 17-7. Haden Tobola's 27-yard field goal on the last play of the first half left the Owls (1-8, 0-5) trailing 17-10.
Rice knotted the score on its first possession of the second half, scoring on Wiley Green's 3-yard TD toss to Aaron Cephus after Anthony Ekpe forced a Bussey Jr. fumble on the second-half kickoff that was recovered by Jack Fox and gave the Owls the ball at the North Texas 25.
But it was all Mean Green after that. Cole Hedlund's 23-yard field goal with 4 seconds left in the third gave North Texas a 20-17 lead and the Mean Green pulled away with three fourth-quarter TDs by Torrey - a 5-yard pass from Fine followed by scoring runs of 14 and 12 yards.