Durant leads Warriors past Mavericks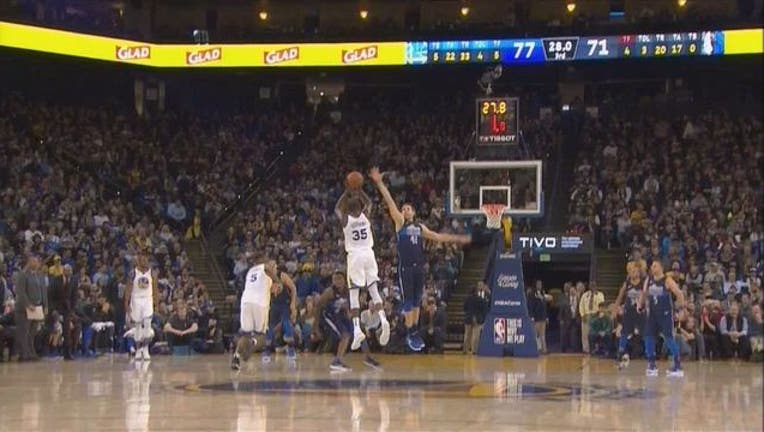 article
OAKLAND, Calif. (AP) - Kevin Durant had 36 points, 11 rebounds and seven assists, and the short-handed Golden State Warriors beat the Dallas Mavericks 112-97 on Thursday night for their eighth straight win.
Klay Thompson scored 25 points, making all five of his 3-pointers and shooting 10 for 18 overall as the Warriors pulled away in the third quarter. Omri Casspi earned another start and posted his 17th career double-double with season bests of 17 points and 11 rebounds, and the Jewish forward shined playing on Jewish Heritage Night and the third night of Hanukkah.
The injury-plagued defending champions are still down three starters in Stephen Curry, Draymond Green and Zaza Pachulia - while Nick Young joined the sidelined group with a concussion sustained in Monday night's win over Portland.
Dirk Nowitzki had 18 points and nine rebounds, and Harrison Barnes added 16 points and seven boards against his former team.
Golden State rookie Jordan Bell provided an all-around solid performance in his fourth career start with eight points, a season-best eight assists, six rebounds and two steals.
Durant also blocked two shots in his fourth 30-point game of the season and third in the last four. Golden State won its 10th in a row against the Mavericks at Oracle Arena and eighth consecutive in the series overall.
TIP-INS
Mavericks: After allowing 40 first-quarter points to the Warriors in the first meeting Oct. 23, the Mavericks led 28-24 after the opening period and were tied 48-all at the break. ... Dallas converted the first 14 of Golden State's 16 turnovers into 18 points.
Warriors: Casspi scored in double figures for the seventh time this season. ... Curry is expected to have his sprained right ankle re-evaluated next week, while Green and Pachulia are dealing with sore shoulders. ... AL Rookie of the Year Aaron Judge of the New York Yankees, from California's Central Valley, was in attendance and is thrilled to get going alongside new slugging teammate Giancarlo Stanton .
ONE MORE FOR NOWITZKI?
Rick Carlisle is crossing his fingers he will be coaching Nowitzki another season in Dallas.
Nowitzki seems set on it, too.
"I'm not going to say 100 percent I'll be back, but it's looking like it," he told the Dallas Morning News after Thursday's morning shootaround.
Carlisle has heard hints that's how his big man is leaning.
"This is kind of what he has been saying all along," Carlisle said. "We're about a third of the way through, and he is feeling good, which is great. I'm hoping like crazy that he plays another year because having him here is one of the really special experiences in coaching. As far as the message it sends to the other guys, it's pretty clear that if you want to be as good as you possibly can be in this league, do what this guy does on a day-to-day basis - everything from diet and nutrition to taking care of your body to doing everything possible to keep your skill level where it needs to be. He's impeccable, the best I've ever seen."
OUCH!
Sitting courtside, Peggy Mizono took a third-quarter bad pass by the Mavericks to the left eye and face area. She appreciated Durant and Bell checking on her, and KD even kissed Mizono's cheek. Warriors owner Joe Lacob and athletic trainer Chelsea Lane each delivered ice bags.
Durant also kissed a woman in Oklahoma City in November 2012 when his own errant pass hit her in the forehead.
UP NEXT
Mavericks: At San Antonio on Saturday.
Warriors: At Lakers on Monday in their only road game the rest of the year.
___
More NBA basketball: https://apnews.com/tag/NBAbasketball