Darvish throws simulated game, could return after break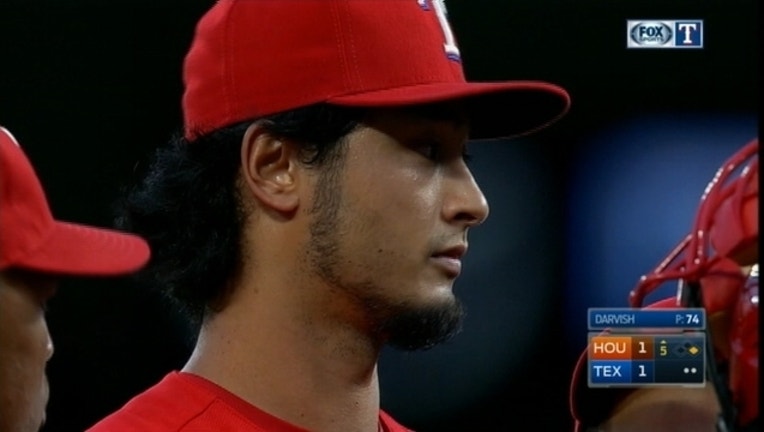 article
NEW YORK (AP) — Yu Darvish threw 46 pitches in a simulated game Wednesday and could return to the Texas Rangers' rotation shortly after the All-Star break.
Sidelined by shoulder discomfort since a June 8 outing against Houston, Darvish threw all his pitches during the three-inning game.
"Ball came out clean. Really tight rotation on the breaking ball. Sharp," Rangers manager Jeff Banister said. "There were some breaking balls that were short that you'd see him kind of act out on, that he didn't get them where he wanted to, but, again, that's the perfectionist in Yu. The ball had good movement at the plate, had some really nice darting life at the plate."
Pitching coach Doug Brocail said Darvish's next step will be determined after the 29-year-old right-hander evaluates how he feels Thursday, when Texas finishes a four-game series against the New York Yankees. A minor league rehab assignment of about 60 pitches or another simulated game are both possibilities. But the Rangers won't put Darvish back in their rotation until after the All-Star break, when their schedule resumes July 15 at the Chicago Cubs.
"If he feels good enough to go on a rehab assignment, I wouldn't mind sending him on a rehab assignment. If he's reluctant, then we'll wait," Brocail said.
Rangers teammates Jurickson Profar and Ryan Rua batted against Darvish, and Profar homered over the short right-field porch.
"I told him it doesn't count, 'cause it only went 317 (feet)," catcher Bryan Holaday said.
Banister was impressed by the outing.
"I don't think there was another ball that was barreled up," he said.
Darvish missed last season following Tommy John surgery and is 2-0 with a 2.87 ERA over three starts since returning to the Rangers on May 28 after five rehab starts in the minors. He has 19 strikeouts and six walks over 15 2/3 innings with the Rangers.
"Curveball was really sharp," Holaday said. "His sinker out there was just explosive. Great downward action, and it was late."
In other news, Texas claimed left-hander Eric Surkamp off waivers from Oakland and optioned him to Triple-A Round Rock.
The 28-year-old Surkamp adds depth to a Texas team that boasts the best record in the American League despite an injury-riddled rotation. In addition to Darvish, left-hander Derek Holland and righty Colby Lewis are on the disabled list.
Surkamp is 0-5 with a 6.98 ERA in nine starts over four stints with the Athletics this season. He was designated for assignment on Monday.
Surkamp was 3-1 with a 3.07 ERA in five starts for Triple-A Nashville this year. He is 4-8 with a 6.68 ERA in 52 games (16 starts) during his big league career. He also has pitched for the Giants, White Sox and Dodgers.
"I'm sure that we'll mix him in as a reliever," Banister said. "I like the arm."
To create space for Surkamp on the 40-man roster, Texas transferred outfielder Drew Stubbs from the 15-day disabled list to the 60-day DL. Stubbs has been out since May 7 with a sprain of his left small toe.