Dallas Renegades quarterback out with a knee injury; XFL announces new rules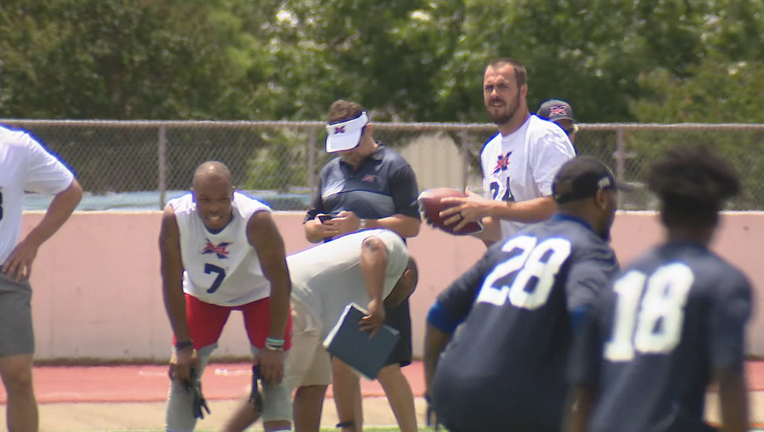 DALLAS - Dallas Renegades quarterback Landry Jones suffered a knee injury during Monday's first training camp practice in full pads. The league is holding its training camp for all eight teams in the Houston area.
Coach Bob Stoops said Jones will miss four to six weeks. That might keep him out of the season opener on Feb. 9.
Jones was the first player signed by the new league. He was the backup quarterback for the Pittsburgh Steelers for several years and had an outstanding college career at OU with Stoops.
Philip Nelson, who played for the University of Minnesota and Rutgers, is the only other quarterback on the Renegades' roster.
The team also tested out one of the XFL's features at practice this week. All offensive players have radios in their helmets for communications from coaches.
The NFL only allows that for quarterbacks but the XFL hopes adding radios for more players will help speed up the game.
The XFL is changing other rules of football before it debuts next month. To add some excitement, it might not be only the quarterback throwing the ball.
"In our game, two forward passes are allowed as long as the ball doesn't cross the line of scrimmage until that second pass," league officials said.
Like in college football, receivers only need one foot in bounds. Coaches cannot challenge a call. Reviews only come from the officiating booth. And the teams also will have options of making extra points worth one, two or three points.
"The extra point whether to go for one, two or three will change a lot of your thinking in the fourth quarter," Stoops said.
The Renegades will play their first game of the season one week after the Super Bowl.  They'll take on the St. Louis Battlehawks at the old Globe Life Park in Arlington.