Cubs' Darvish limits former club to 3 hits over 6 innings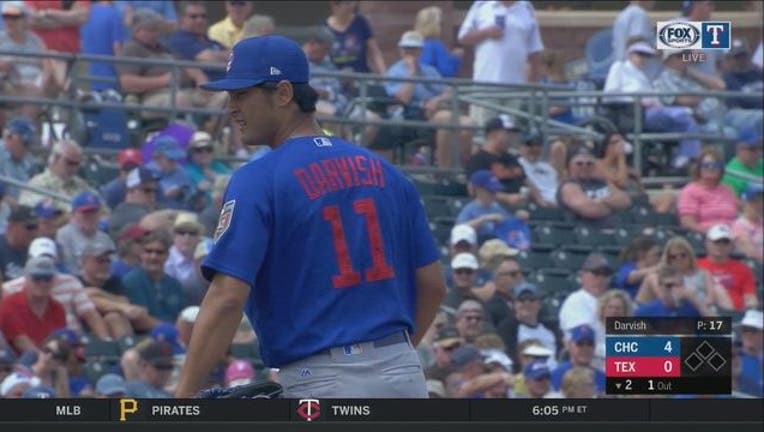 SURPRISE, Ariz. (AP) - Yu Darvish looked as if he would stumble on the mound, yet still managed to unleash a pitch that struck out Drew Robinson of the Rangers.
"I got off-balance," Darvish said through a translator. "I thought of not throwing it, but I ended up getting a strikeout. I think that was my best pitch of the day."
The whole day was rather awkward for Darvish, who faced Texas for the first time since signing a six-year, $126 million contract with the Chicago Cubs last month. The four-time AL All-Star spent his entire major league career with the Rangers until getting traded to the Dodgers last summer. He became a free agent after losing Game 7 of the World Series.
"I drove myself here today and as I got closer to the stadium, it's nice seeing the scenery I'm used to watching," Darvish said. "There were a lot of familiar hitters. I heard some heckles from the opponent's side and that got me relaxed and I had fun out there."
Darvish limited the Rangers to three hits, including Juan Centeno's home run, over six innings. He struck out seven and walked none as the Cubs prevailed 5-1. Kris Bryant and Kyle Schwarber homered for the Cubs.
Darvish knew early on in the free agency process he would likely not be returning to Texas. General manager Jon Daniels had dinner with Darvish in December and told him the Rangers were not going be bidding for available top-dollar talent.
"It seems like the probability of going back to the Rangers seemed a little bit lower," Darvish said.
Darvish is 3-0 with a 2.76 ERA in the Cactus League, allowing 10 hits and four runs over 16 1/3 innings, while striking out 19 and walking four. He said his slider was working particularly well against his old teammates.
"The hitters were not reacting the way they did prior to my Tommy John surgery, so I think that is a good indication," he said. "I didn't have any fatigue. In the sixth inning, my velocity went up."
The 31-year-old Darvish missed the 2015 season while recovering from his elbow operation.
Joey Gallo singled off Darvish in the first and was thrown out at the plate on a double by Elvis Andrus.
"Not just this game, but throughout this whole spring training there have been some hits, where it was going to lead to a run, but the defense backed me up, so it's really nice to have them back there," Darvish said.
Darvish, who was pumping fastballs in the mid-90s mph, retired 15 of his last 16 batters.
Andrus said he was going to send some trash-talking texts to his pal Darvish prior to the game.
"I blocked him," Darvish said, laughing.
Said Andrus: "He's in a Cubs uniform and there is nothing I can do about that. I was praying for him to come back. I believe he wanted to come back. I texted him about coming back. I wanted to let him know we wanted him back."