Cowboys' Elliott faces Falcons, 1st foe for last year's ban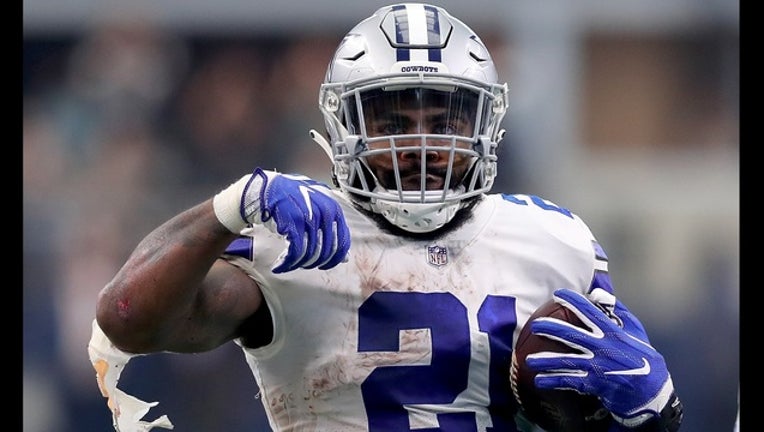 article
FRISCO, Texas (AP) - Ezekiel Elliott paused and lowered his voice when asked what he was doing when the Dallas Cowboys played without their star running back for the first time during his six-game suspension last year.
Not only was Elliott having a self-described "tough time" with the NFL's ban over domestic violence allegations finally in place after weeks of court battles, but he had to watch a dreadful offensive showing by the Cowboys in a blowout loss to Atlanta. The 27-7 defeat started a three-game losing streak that wiped out any realistic playoff hopes.
"I was home watching it," Elliott said Wednesday. "Tough to watch. Tough time for me. I'm glad I'm out there this year and able to help my guys go out there and try to get this win."
It's relevant because the Cowboys (4-5) are visiting the Falcons (4-5) again Sunday, nearly in the same spot on the schedule, in more dire need of a win because of an uneven first-half performance, particularly by the offense.
Just like last year, though - when Elliott refused upon his return to the team to discuss already-public details about his time away - Elliott didn't last long talking about the drama surrounding his suspension, and the impact it had on the Cowboys.
"That's all behind me," he said. "It's hard to even need extra motivation when you're 4-5. For the rest of this season, our backs are up against the wall. We have to do the best we can to go out there and try to win every one of these last games. And those guys on their side, they're feeling the same way."
The next two questions were brushed aside. "I really don't want to dwell on last year," Elliott said.
Four-time Pro Bowl right guard Zack Martin didn't even remember last year's Atlanta game was the first without Elliott.
"I know you guys want to talk about it," Martin said. "That really hasn't come up at all this year."
Elliott and the Dallas offense have had a rough season, even with a running game that has ranked in the top five most of the season.
But the 2016 NFL rushing champion as a rookie is coming off one of his best games of the year in a season-saving 27-20 win at defending champion Philadelphia. Elliott had 151 yards rushing with a touchdown and 36 yards receiving with another score - and a TD he lost by stumbling in the open field after almost cleanly hurdling a defender and landing in stride.
"You do have a little bit more momentum," Elliott said. "When you have a game like that last week, this Falcons team is going to be that much more clued into the run. It's not going to be easy."
The Cowboys recovered from the downer of losing Elliott to win the last three without him last season. Then they compounded the disappointment by losing his first game back to Seattle when Dallas still had faint playoff hopes.
That defeat eliminated the Cowboys a year after an NFC-best 13 wins during the remarkable debut seasons for Elliott and quarterback Dak Prescott, the NFL Offensive Rookie of the Year.
Fast-forward a year, and Elliott is still second in the league with 831 yards rushing despite an offense ranked 27th overall, and a group of blockers that has struggled since losing four-time Pro Bowl center Travis Frederick to a nerve disorder before the season started. Frederick's return this season looks less likely each week.
"I think he's handled it all really, really well," coach Jason Garrett said of Elliott . "He wants to be a great player, wants to have a big impact on our team. I thought he handled a lot of the distractions last year very well. He came back from them and now he's focused on those same things that we always thought he was all about."
And happy to be playing the Falcons instead of watching from home.
NOTES: LT Tyron Smith was added to the injury report with a back issue Wednesday. He didn't practice. ... Five defensive linemen didn't practice: David Irving (ankle), DE Taco Charlton (shoulder), DT Maliek Collins (knee), DE Daniel Ross (calf) and DT Antwaun Woods (concussion).
___
More AP NFL: https://apnews.com/NFL and https://twitter.com/AP_NFL