Big 12 reprimands Baylor coach who was on Oklahoma sideline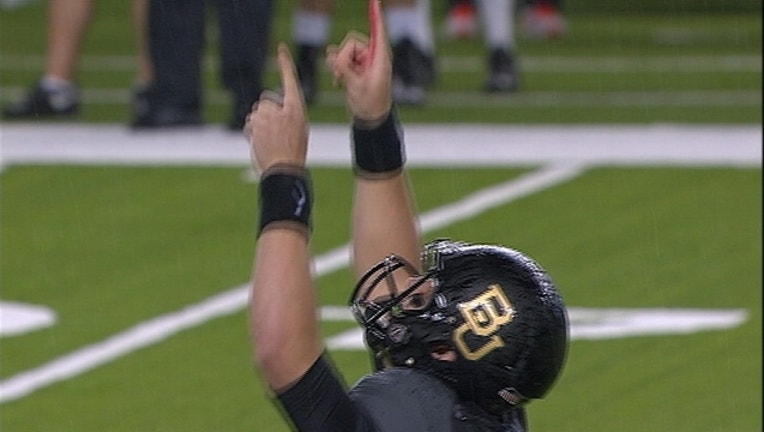 article
IRVING, Texas (AP) — The Big 12 Conference issued a public reprimand Thursday against the Baylor assistant coach who was on the sideline during an Oklahoma home game.
The league has also accepted Baylor's self-imposed penalty against passing game coordinator Jeff Lebby, who will be suspended for the first half when the fifth-ranked Bears host 15th-ranked Oklahoma on Nov. 14. The school also self-reported to the NCAA a violation of a rule that prohibits in-person scouting of a future opponent.
Big 12 Commissioner Bob Bowlsby said in a statement that the opportunity for Lebby to scout a future opponent by being on the sideline was inconsistent with the principles and expectations of sportsmanship and ethical conduct.
Baylor coach Art Briles said earlier this week that he was embarrassed to find out that Lebby, who is also his son-in-law, was on the sideline during Oklahoma's game last Saturday against Tulsa. Briles said he didn't know beforehand that Lebby was going, and said that he had called Sooners coach Bob Stoops after the game to apologize.
Briles said he hated the perception the incident created even though he said Lebby's presence provides no scouting advantage since all teams have access to film of each other.
Lebby was in the Norman, Oklahoma, area for a wedding while the Bears had an open date. He is an Oklahoma graduate who once was a student assistant coach for the Sooners.
First-year Tulsa coach Philip Montgomery is a former Baylor assistant that Lebby had worked with the previous seven seasons and had known before that. Montgomery left credentials for Lebby and his wife, who is Briles' daughter.
Montgomery on Monday released a statement saying it was obviously a mistake and poor decision to leave those credentials. The Tulsa coach said there was no malicious intent on his part, and that he too had called stoops to apologize.
The night before Baylor's last game, a 66-31 win over FCS team Lamar on Sept. 12, Briles suspended offensive coordinator Kendal Briles, the head coach's son and team's primary play caller, and wide receivers coach Tate Wallis, for committing an NCAA recruiting violation.
Baylor said the two assistants committed a violation related to evaluations of prospective student-athletes during this past spring recruiting period. They were not permitted at the stadium during that game, but have since resumed their coaching duties.
Lebby was involved in helping call plays in the game against Lamar with Kendal Briles absent.
___
Online: AP college football website: www.collegefootball.ap.org