Big 12 commish wants decision on expansion by end of summer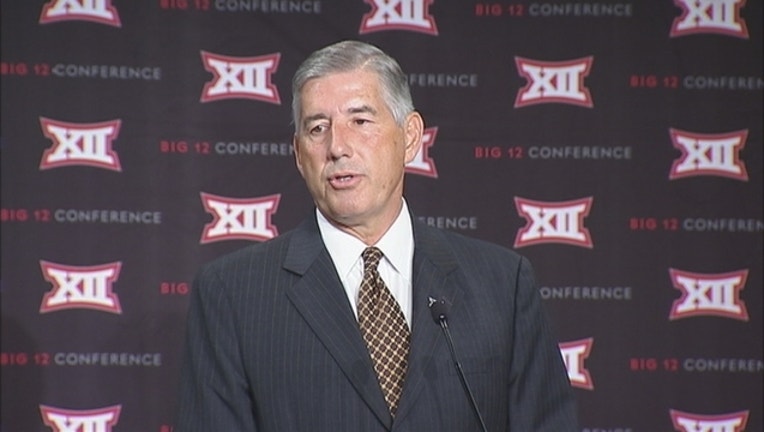 article
IRVING, Texas (AP) — Big 12 Commissioner Bob Bowlsby wants conference leaders to make decisions one way or the other on the lingering topics of expansion, a football championship game and a league network by the end of the summer.
Athletic directors spent about 90 minutes during the Big 12 spring meetings Wednesday in what were termed "philosophical discussions" about those issues that will ultimately be decided by the league's board of directors comprised of school presidents and chancellors.
The 10 directors, which include interim leaders at Baylor, Kansas State and Texas Tech, will join the conference meetings Thursday and Friday. They will have a significant amount of data to discuss this week and consider into the summer when returning to their campuses.
"Unless we find that there is something we just have missed ... I don't see any reason why we can't stay on that timeframe," Bowlsby said.
Faculty athletic representatives deadlocked 5-5 regarding a proposed change in a league rule that would have given former Texas Tech walk-on quarterback Baker Mayfield an extra season of eligibility at Oklahoma. The proposal, which failed because it lacked a majority, would have eliminated the year of lost eligibility for non-scholarship athletes who transfer within the league.
Mayfield left Tech after his freshman season in 2013, then had to sit out to a season to satisfy NCAA transfer rules while also losing a season of eligibility in the Big 12. The quarterback who led the Sooners to the College Football Playoff last season could conceivably play this fall at Oklahoma, then graduate from the school and transfer to play immediately for one more season for a team outside the Big 12.
"We're hoping we can make progress so we can get this changed before we get there," Oklahoma athletic director Joe Castiglione said.
A research firm hired by the league has provided data that shows the conference would have a better chance to get into the College Football Playoff each season by expanding to 12 teams and playing eight conference games, along with a championship game. That is opposed to its current standing of 10 teams playing a round-robin conference schedule without a title game.
"There's an awful lot right about the way we conduct our competition. There's a lot right about playing a full round-robin in football and double-round in basketball. I think we're going to be a little bit slow to depart from that," Bowlsby said. "We don't want to give that away in any sort of way that doesn't provide at least equal or more rewards than what we currently have."
Castiglione described the round-robin schedule as a distinguishing characteristic for the Big 12, and pointed out that having a conference championship game wouldn't guarantee the winner going to the playoff like the Sooners did this season.
When asked about expansion, Texas athletic director Mike Perrin said he believes "the prudent thing" is for the conference to stay at 10 teams. He seemed a little more open to discuss the possibility of a championship game without expanding.
But the Longhorn Network remains a huge hurdle in any discussions about a league-wide network.
While some other schools have contacted the Big 12, Bowlsby said the league doesn't have what he would consider a list of expansion candidates and that such discussions "would be premature."
— The Big 12 meetings come a week after Baylor regents fired football coach Art Briles and removed Ken Starr as president over the school's handling of sexual assault complaints against football players. Athletic director Ian McCaw was also penalized and has since resigned.
"It's a campus issue, it's one that we certainly are watching closely," Bowlsby said. "It's not clear where we would engage in any sort of punitive way at this point."
Baylor is represented at the Big 12 meetings by interim President David Garland and Todd Patulski, the deputy athletic director.
— ADs were presented data that showed concussions in Big 12 football have dropped by one-third since 2013. League officials attributed much of that to limited contact rules put in place over the past few years.