Barnes scores 31, Mavs beat Bucks 109-105 to end skid at 4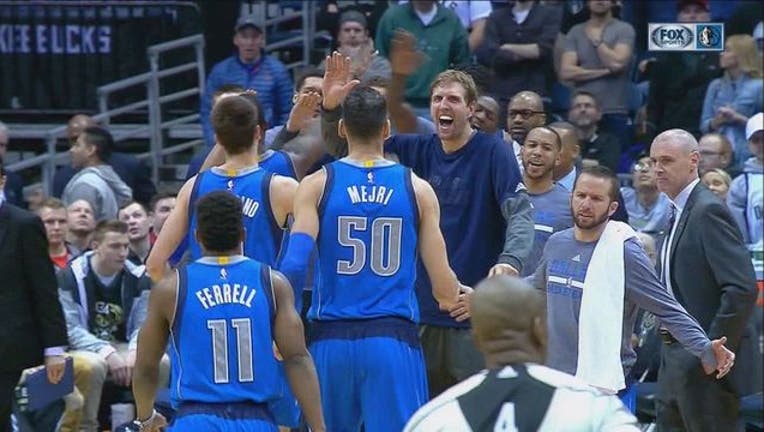 MILWAUKEE (AP) - Harrison Barnes scored 15 of his 31 points in the fourth quarter to lift the Dallas Mavericks to a 109-105 victory over the listless Milwaukee Bucks on Sunday.
The Mavericks played as if they still had a chance at the playoffs, while the Bucks frittered away an opportunity to cement their hold on the fifth spot in the Eastern Conference.
Dallas capitalized on 15 turnovers, turning them into 19 points, and Nicolas Brussino's uncontested layup gave the Mavericks a 91-82 lead with 7:12 left to play.
The Bucks pulled to 106-103 on Matthew Dellavedova's 3-pointer with 1:24 to play, but got no closer.
Dirk Nowitzki and J.J. Barea each had 17 points as the Mavericks snapped a four-game losing streak. Yogi Ferrell had 13 filling in for the ailing Seth Curry.
Giannis Antetokounmpo had 31 points and 15 rebounds for the Bucks, fresh off a 14-4 record in March. That was the franchise's third-most wins in a month and best mark since the 1970-71 NBA championship team went 16-2 in February.
Dallas has won nine of the last 11 meetings with the Bucks, including an 86-75 overtime victory earlier this season.
Gary Payton II, signed to a multiyear contract before the game, entered the game with 5:18 left in the third. He hit his first shot, a wide-open 3, and followed that up with a dunk that gave the Bucks a 74-68 lead.
TIP-INS
Mavericks: Curry aggravated his injured left shoulder Friday night at Memphis. Coach Rick Carlisle is hopeful that Curry, who continues receiving treatment, could play Tuesday in Sacramento.
Bucks: Rookie G Malcolm Brogdon missed his second consecutive game with back tightness. He sat out Friday's win over Detroit and missed two games earlier in March with the same problem. Coach Jason Kidd said that Brogdon would make the road trip, if he felt better. . C John Henson (sprained left thumb) missed his seventh consecutive game.
UP NEXT
Mavericks: Dallas continues its season-high, five-game road trip Tuesday against the Sacramento Kings.
Bucks: Begin a three-game road trip Tuesday against the Oklahoma City Thunder.