Banks, Moss power Texas A&M to SEC title, 12-5 over Florida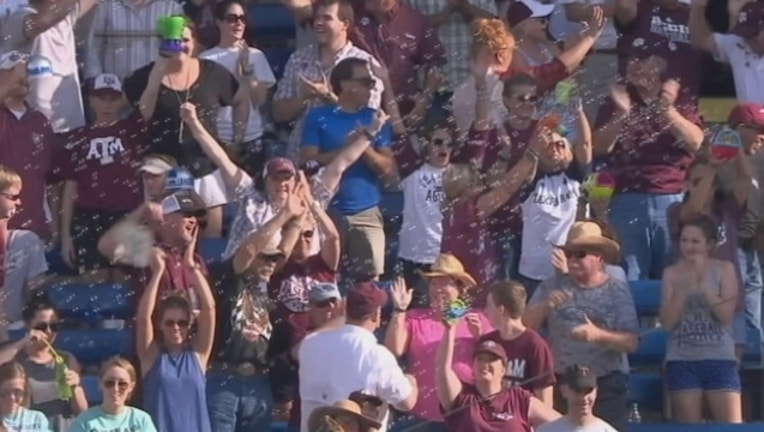 HOOVER, Ala. (AP) — Texas A&M took its lumps after joining the Southeastern Conference. On Sunday, the Aggies were the ones delivering the hits.
Nick Banks hit two homers, J.B. Moss drove in five runs and Texas A&M rallied for its first SEC Tournament title with a 12-5 victory over defending champion Florida on Sunday.
The Aggies (45-14) had posted losing league records their first two years in the SEC before turning it around the past two seasons.
"We got a lot of bruises, a lot of scars trying to figure out what it takes to win at this level, in this league week in and week out," Texas A&M coach Rob Childress said. "It's nice that they got a dogpile there at the end."
Texas A&M, the SEC's No. 1 hitting team, scored four runs in the seventh inning and five in the eighth to rout the top pitching staff. Moss hit a two-run double and a three-run double in the two big innings.
Banks belted a two-run home run over the right field fence in the seventh, following a solo shot in the third. He was named the tournament MVP after hitting three homers on the week.
Texas A&M pounded out 15 hits.
"Coach tells us before the game that it's going to take 1 through 9 (in the batting order)," said Moss, who had three hits and scored three times. "And when we're able to do that and stay committed 1 through 9, I think we're the best offense in the country. I think we showed that the last couple of days."
Texas A&M won four straight games after losing its tournament opener to Vanderbilt.
SEC pitcher of the year Logan Shore started for the Gators (47-13) but went only one inning, allowing a run. It was his only outing of the tournament but coach Kevin O'Sullivan said he'll be ready for a regional..
"He's fine," O'Sullivan said. "I just decided to take him out at that point, but he'll be able to go Saturday or Friday."
In a game where the teams combined to send 11 pitchers to the mound, Andrew Vinson (4-2) dominated for Texas A&M at the end. Vinson pitched three innings without allowing a hit or walk to end the game for the Gators, striking out five batters.
"Andrew Vinson did a great job of stopping them in their tracks and we continued to score late in the game," Childress said.
Texas A&M committed four errors and Florida two.
Hunter Melton had a pair of hits and Austin Homan drove in three runs for Texas A&M.
Danny Reyes had two hits and an RBI for Florida, while also making a leaping catch at the wall in left field in the sixth.
Texas A&M also went into the final weekend in contention for the SEC regular-season title, before ending with a 3-2 loss to Mississippi.
The Gators survived a 14-inning loss to LSU Wednesday night to make it to their third straight championship game.
"I think our young players grew up quite a bit this week," O'Sullivan said.