Arkansas gets wild double-OT win over No. 15 TCU, 41-38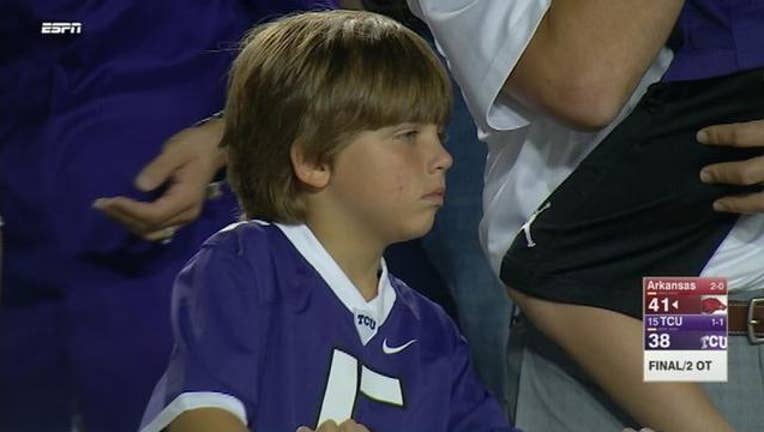 article
FORT WORTH, Texas (AP) — Austin Allen ran 5 yards for the winning score in the second overtime, and Arkansas pulled out a wild 41-38 victory over No. 15 TCU on Saturday night.
Allen led the Razorbacks (2-0) to the tying score in the final 2 minutes of regulation, throwing a touchdown pass to Keon Hatcher and then catching the tying 2-point conversion from the receiver with 1:03 remaining.
The Horned Frogs (1-1) rallied from 13 down in the fourth quarter to take a 28-20 lead, but couldn't hang on as their 14-game home winning streak ended in the first meeting of these former Southwest Conference rivals since 1991. That was the year before Arkansas started play in the SEC.
Allen threw three touchdowns passes, including a 19-yarder to Jeremy Sprinkle to start overtime.
"We wanted to keep you in your seats for four quarters and some," Arkansas coach Bret Bielema said with a smile as he greeted reporters. "For college football, this is everything you could ask for."
TCU's Kenny Hill threw for 377 yards and an overtime TD to Taj Williams and also had 93 yards rushing and two scores. But he couldn't get the Horned Frogs in the end zone in the second OT, and they settled for Ryan Graf's 37-yard field goal.
Allen's winning score came on a second effort as he fell across the goal line.
KaVontae Turpin set up both of TCU's fourth-quarter touchdowns with long catches, including on the go-ahead drive from midfield after he added nearly 25 yards on a dazzling punt return when he spun out of several tackles while somehow keeping both knees off the ground.
After the Razorbacks got even, Turpin returned the kickoff 64 yards, but Arkansas' Dan Skipper blocked Graf's 28-yard field goal try with 10 seconds remaining.
The 5-foot-9, 153-pound speedster had 295 all-purpose yards, including 126 receiving.
"You feel like you gave one away," TCU coach Gary Patterson said. "They're going to be upset when they watch the film."
Turpin had a 57-yard catch to set up Hill's 1-yard run to get TCU within 20-14 in the fourth quarter. Turpin added a 43-yarder from Hill before Kyle Hicks' second rushing TD, a 7-yarder for the TCU's first lead at 21-20 with 7:15 remaining.
Rawleigh Williams III had a career-high 137 yards rushing for the Razorbacks.
THE TAKEAWAY
Arkansas: The Razorbacks went from feeling like they let one get away to getting their fifth win since 2014 over a ranked team while they were unranked.
TCU: Hill looked shaky early again, throwing an interception that Brooks Ellis returned 47 yards for the only touchdown of the first half. But just like a week ago in a 59-41 win over South Dakota State of the FCS, he was great in the second half.
UP NEXT
Arkansas: The Razorbacks will be heavily favored at home against Texas State on Saturday before coming back to the Dallas area Sept. 24 for their SEC opener against Texas A&M.
TCU: The Frogs finish a season-starting stretch of three home games with the Big 12 opener against Iowa State on Saturday. TCU has won three straight in the series since losing to the Cyclones in their first Big 12 home game in 2012.
___
Online: AP College Football website www.collegefootball.ap.org