A capsule look at the Rangers-Blue Jays playoff series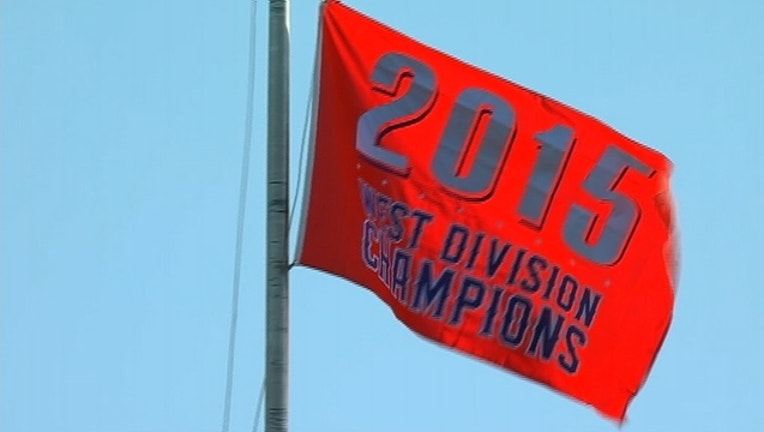 article
A look at the best-of-five American League Division Series between the Texas Rangers and Toronto Blue Jays:
___
Schedule: (All times EDT) Game 1, Thursday, at Toronto, 3:37 or 4:07 p.m. (FS1); Game 2, Friday, at Toronto, 12:45 p.m. (MLBN); Game 3, Sunday, at Texas, 8:10 p.m. (FS1); Game 4, x-Monday, Oct. 12, at Texas, TBD (FOX or FS1); Game 5, x-Wednesday, Oct. 14, at Toronto, TBD (FOX or FS1)
x-if necessary.
___
Season Series: Blue Jays won 4-2.
___
Projected Lineups:
Rangers: CF Delino DeShields (.261, 2HRs, 37 RBIs, 25 SBs), RF Shin-Soo Choo (.276, 22, 82, 76 BBs, 94 runs), DH Prince Fielder (.305, 23, 98), 3B Adrian Beltre (.287, 18, 83), 1B Mitch Moreland (.278, 23, 85), LF Josh Hamilton (.253, 8, 25), SS Elvis Andrus (.258, 7, 62), 2B Rougned Odor (.261, 16, 61), C Robinson Chirinos (.232, 10, 34).
Blue Jays: OF Ben Revere (.306, 2, 45 with Phillies and Blue Jays), 3B Josh Donaldson (.297, 41, AL-best 123 RBIs), OF Jose Bautista (.250, 40, 114), DH Edwin Encarnacion (.277, 39, 111), SS Troy Tulowitzki (.280, 17, 70 with Rockies and Blue Jays), C Russell Martin (.240, career-high 23 HRs, 77), 1B Chris Colabello (.321, 15, 54), OF Kevin Pillar (.278, 12, 56), 2B Ryan Goins (.250, 5, 45).
___
Starting Pitchers:
Rangers: RH Yovani Gallardo (13-11, 3.42 ERA), LH Cole Hamels (13-8, 3.65 with Phillies and Rangers; 7-1 in 12 starts for Texas), LH Derek Holland (4-3, 4.91), RH Colby Lewis (17-9, 4.66).
Blue Jays: LH David Price (18-5, AL-best 2.45 ERA with Tigers and Blue Jays), RH Marcus Stroman (4-0, 1.67 in four September starts), RH Marco Estrada (13-8, 3.13), RH R.A. Dickey (11-11, 3.91).
___
Relievers:
Rangers: RH Shawn Tolleson (6-4, 2.99, 35/37 saves), LH Jake Diekman (2-1, 4.01 in 67 games with Phillies and Rangers; 2.08 ERA in 26 games for Texas), RH Sam Dyson (5-4, 2.63 in 75 games for Marlins and Rangers; 1.15 ERA in 31 games for Texas), LH Sam Freeman (3.05 in 54 games), RH Ross Ohlendorf (3-1, 3.72), RH Keone Kela (7-5, 2.39 in 68 games).
Blue Jays: RH Roberto Osuna (1-6, 20/23 saves, 2.58 ERA as rookie), LH Brett Cecil (5-5, 5/8 saves, 2.48 ERA, 70 K, 54 1-3 IP), RH Aaron Sanchez (7-6, 3.24 ERA in 40 games, 11 starts), RH Mark Lowe (1-3, 1.96 ERA with Mariners and Blue Jays), RH LaTroy Hawkins (3-1, 3.26 ERA with Rockies and Blue Jays), RH Liam Hendriks (5-0, 2.95 ERA, 71 K, 64 IP), LH Aaron Loup (2-5, 4.46).
___
Matchups: The Blue Jays and Rangers have never played each other in the postseason. ... Toronto has a slight 204-200 lead in the all-time regular-season series, but the Blue Jays have gone 17-11 over the past four seasons since Texas went to its last World Series. Toronto took two of three at home in June and two of three at Texas in August. ... Blue Jays starter David Price has lost all three of his postseason starts against Texas, all for Tampa Bay, including the deciding Game 5 of the AL Division Series in 2010. In 11 regular-season starts against the Rangers, he is 3-4 with a 5.15 ERA, his highest against any AL opponent. In his only start against them this season, he allowed two runs in six innings of Toronto's 12-4 win at Texas on Aug. 26. ... Gallardo won both of his starts this season against the Blue Jays, the only Texas wins against them. He threw 13 2-3 scoreless innings, allowing six hits while Toronto batted .136 against him. ... Beltre and Choo, the Rangers' hottest hitters the last month, each batted .250 this season against Toronto. Beltre homered once with four RBIs in those six games, while Choo drove in two runs. ... Hamels is 0-2 in four career starts against Toronto, averaging 100 pitches in those games without ever working more than six innings. His 6.97 ERA is his highest against any opponent he has faced more than twice. He has started against the Blue Jays just once since 2010, in May 2014, when he gave up five runs and 10 hits in six innings for the Phillies. ... Toronto hit .278 against left-handers, second in the majors to Detroit (.281). . The Blue Jays led the majors by converting 88 of their 111 stolen base attempts. ... Martin threw out 38.9 percent of base stealers, good for the second-best percentage in the AL. ... Tulowitzki played two of the final three games of the regular season after missing nearly three weeks with a broken left shoulder blade, sustained in a collision with teammate Kevin Pillar. ... Price was shut down after the Blue Jays clinched the East, having reached 220 1-3 innings. He'll head into the playoffs on 11 days' rest, the first pitcher to do so since Red Ruffing of the Yankees in 1939. Ruffing opened the World Series that year with a complete game victory over Cincinnati.
___
Big Picture:
Rangers: With first-year manager Jeff Banister, Texas is back in an AL Division Series for the first time since 2011, when it made its second consecutive World Series appearance. ... The Rangers' sixth AL West crown was clinched on the final day of the regular season, when they won their 10th consecutive game started by Hamels. ... Only four other MLB teams, one other in AL, also made the playoffs the year after having its league's worst record. The Rangers lost 95 games in 2014. ... Texas was 8-16 a month into this season, already 9 1-2 games out of first, and still eight back on Aug. 1, after losing Hamels' Texas debut after his trade from Philadelphia. ... Except for one day tied for first place at 3-3 in the opening days of the season, Texas didn't lead the division until a 6-5 win over Houston on Sept. 15 in the 144th game of the season — and held on from there. That was part of a four-game series sweep to overtake the Astros. ... Minnesota in 2006 was the last team that had won a division title after trailing by at least eight games in August. ... Texas was third in the majors with 751 runs scored, but also allowed 733. The plus-18 run differential is by far the lowest among MLB playoff teams. (Yankees' plus-66 is the next lowest). Two weeks ago, the Rangers were dead even in that category.
Blue Jays: Toronto was 50-51 after losing to lowly Philadelphia on July 28, the same day GM Alex Anthopoulos acquired Tulowitzki and Hawkins from the Rockies. Two days later, Price arrived from Detroit, with Anthopoulos capping a busy trade deadline flurry by landing Revere from the Phillies and Lowe from the Mariners. The deals beefed up an already prolific offense, overhauled Toronto's shaky bullpen, and added a true ace to the top of the rotation. The Blue Jays went 43-18 the rest of the way, undoing a seven-game deficit to overtake the Yankees and win the AL East. ... Toronto ended the longest active playoff drought in the majors, a 22-year slump that stretched back to 1993 and the second of Toronto's consecutive World Series titles. ... Toronto led the majors with 891 runs, scoring 127 runs more than the next best offense, the Yankees, who had 764. Texas finished third in the majors with 751 runs. ... The Blue Jays led the majors with 232 home runs. Donaldson, Bautista and Encarnacion combined for 120 homers, the most by any trio of players in Toronto history. ... Toronto finished with a 3.81 team ERA, good for fifth-best in the AL. ... The Blue Jays finished 15-28 in one-run games, the worst record in the majors.
___
Watch For:
—Big-time Beltre: Despite being bothered by a sore left thumb all season, and jamming the index finger on the same hand in mid-September, Beltre, the veteran third baseman, batted .427 (38 of 89) with five homers and 33 RBIs over the final 22 games of the regular season. He had six extra-base hits the last six games, including a two-run homer that put Texas ahead to stay in the division-clinching finale.
—Stro Show. Expected to miss the season after tearing his left ACL during a spring-training fielding drill, Stroman underwent a rigorous rehab while attending summer classes at Duke University. He then gave Toronto's rotation a much-needed boost by returning in September to make four sparkling starts, posting two key wins over the Yankees. He allowed three earned runs in his Sept. 12 debut, but just two more over his final 22 innings.
—Rested Relievers: With Hamels throwing a complete game in the regular-season finale, and Texas avoiding a division tiebreaker, the bullpen got a needed break. Closer Tolleson and reliever Dyson had both thrown in five consecutive games before that. Before Los Angeles rallied in the ninth inning to win consecutive games Friday and Saturday, the Texas bullpen had thrown 12 1-3 consecutive scoreless innings and had an AL-low 2.75 ERA since Aug. 1.