Wounded veteran outfitted with all-terrain wheelchair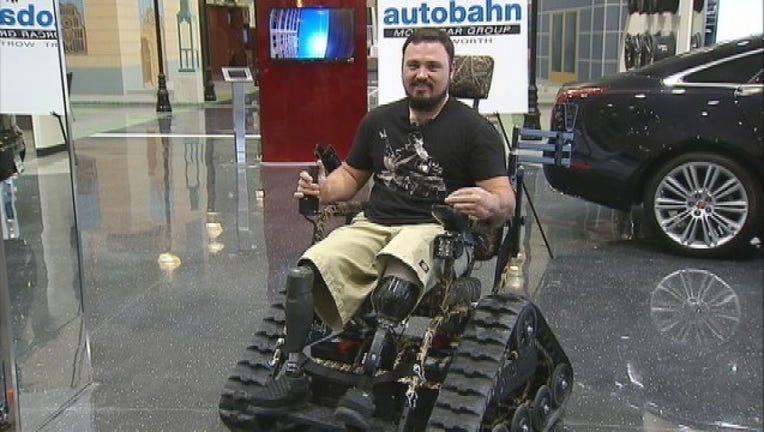 article
A Marine who was wounded in the war will never have to worry about getting around while enjoying his favorite things. He's got a new all-terrain wheelchair.
The Freedom Alliance, a military support charity, donated the customized Trackchair to Cpl. Mike Fox on Friday.
Fox served in the Marines for five years with three overseas deployments. He lost both his legs and severely injured his arm in a blast while clearing a compound in Afghanistan in 2011.
He can walk again with the use of prosthetic legs, but on a hunting trip with a buddy discovered just how challenging it can still be to get around in nature.
"With this Trackchair, it'll go through mud, snow, sand. It'll go over logs. I can drag a deer out of the woods. It's also handicap accessible so I can use it on public hunting lands, something I couldn't do with utility vehicles," he said.
Fox said he finds hunting therapeutic. He also enjoys deep sea fishing, auto racing and wants to return to college to study photography.
"Michael Fox is a U.S. Marine who served our country on three deployments," said Freedom Alliance President Tom Kilgannon. "Our appreciation for his service reaches beyond this chair and we hope it brings him comfort and the ability to participate in the activities he most enjoys.
For more information about Freedom Alliance and the all-terrain wheelchairs, visit www.FreedomAlliance.org.