Video shows suspect running from CVS after shooting pregnant clerk
UNIVERSITY PARK, Texas - University Park police released new surveillance video on Monday of the person who shot a pregnant store clerk during a robbery over the weekend.
The video shows the suspect going into the store on Mockingbird Lane at U.S. Highway 75 around 6:40 a.m. Saturday morning.
While in the store, police said he demanded money and then a clerk who was 8 months pregnant. He took off without getting any cash. Police laid out what happened during the crime, but they have not figured out why the employee, who was not behind the counter, was hit.
Police have since identified the clerk as 29-year-old Orelia Sade Hollins. She was rushed to the hospital where her baby boy was delivered. Both remain in critical condition but are said to be stable.
Related: Pregnant employee shot during robbery at CVS in University Park and her baby still 'critical condition, but stable'
University Park police want the public to take a close look at how the suspect walks as he's heading into the CVS store.
"He demanded money, but he didn't get anything," said University Park Police Asst. Chief J. Savage.
They're also urging close attention to the suspect's manner of running when he gets away less than two minutes later.
"The individual has a very distinctive walk as he's going into the store," Savage said.
The surveillance video shows the suspect wearing dark clothes and a dark hooded coat run out of the store. His face appears to be covered.
Police do not believe Hollins knew the shooter.
"The clerk behind the register was having a little difficulty getting the register open," Savage said. "The way we're going now after speaking to the victim was that they didn't know each other."
The victim's uncle, Rodney Pearson, says she's doing better but is still weak. He doesn't know if Hollins has been able to hold her newborn, but her two older children have joined them at the hospital.
"We're still puzzled about it. Why did this happen? Why did this happen to her?" Pearson said. "Because she don't bother no one. She works. She takes care of her kids. She loves to laugh, have fun. Don't none of us understand why."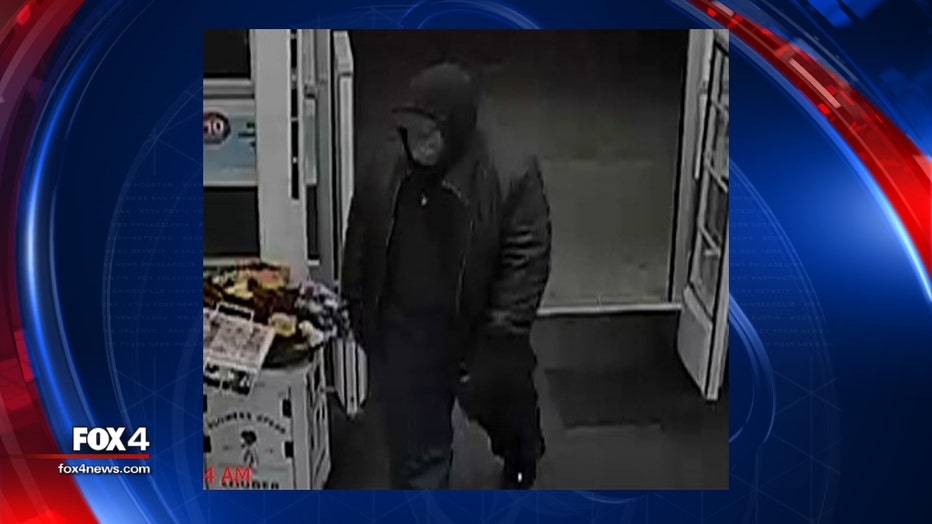 News of the shooting spread quickly and has prompted donation drives. Inside the store, a sign lets customers know how they can contribute.
In the meantime, a sandwich shop a few doors down set a goal for tips and surpassed it within a few hours. They've managed to raise more than $5,000.
"It's another blessing," Pearson said. "This will help her out a lot."
The University Park Police Department said they are also reviewing video from inside the store but haven't released it because they don't want to jeopardize the investigation.
The department has three detectives working on the case and following up on leads. Anyone with information is encouraged to contact University Park PD at 214-987-5350.