TWC: Workers who can't return to work due to COVID-19 issues still eligible for unemployment benefits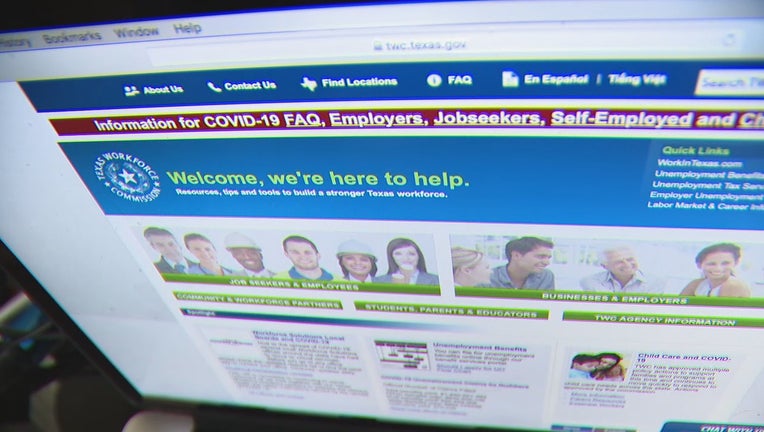 DALLAS - With millions of employees being called back to work on Friday, there is confusion over workers' rights.
If you have been asked to report back to work Friday, there are some things you need to know.
Normally, job refusal means no unemployment benefits for Texans. But when it comes to COVID-19, nothing is normal.
As Texas reopens on Friday, people are being called back to work. But some people are concerned about returning due to health concerns or other issues related to COVID-19.
Right now, the TWC instructs on its website that any employee who doesn't come back to work should be reported to the fraud department. However, the TWC says that is not exactly the case anymore.   
"That message was set for normal circumstances," explained Ed Serna, head of the TWC. "You'll probably see that message change later today with updated information."
"With all due respect, it's a website and doesn't take a long time to update," Reporter Steve Noviello told Serna. "Don't you think that's a crucial detail that should be updated without me having to ask you about it?"
"No, it shouldn't," Serna said. "Because what I don't want to do is put a message out that is incomplete or inaccurate and then put another message out after that."
"But you recognize the message currently is not accurate, correct?" Noviello asked.
"The message is not friendly and does not reflect what I just told you," Serna said.
The reality is workers simply have to attest that they are unable to return. Maybe, they're sick. Maybe, they don't have child care.
"The default is to continue to pay benefits," Serna said. "So we're not going to cut anybody off while we investigate or anything like that."
Again, if you're being asked to report back to work and can't, let your employer know. Your benefits will not be interrupted. But your explanation will be investigated on a case-by-case basis.