Trump takes note of who's naughty and nice at Christmas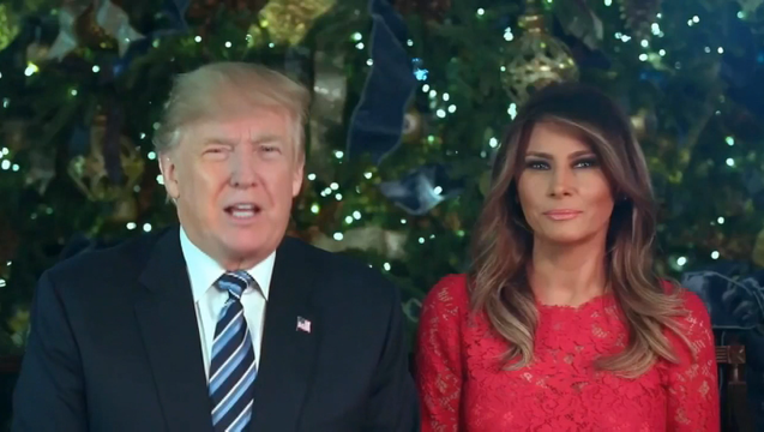 article
PALM BEACH, Fla. (AP) - Heading into his first Christmas in office, President Donald Trump took note of those he considers naughty (a top FBI official, the news media) and nice (U.S. troops stationed overseas and their families, kids eagerly awaiting Santa's arrival). He also squeezed in time for golf, time with family and time for church.
"Merry Christmas," Trump said Sunday night as he and first lady Melania Trump arrived at the Church of Bethesda-by-the-Sea in Palm Beach, Florida. Congregants welcomed them with a standing ovation. The Trumps got married at the church in 2005.
Earlier Sunday, Trump sought to cheer U.S. troops who are away from their families to "defend all of our families, our freedoms and our pride."
"Every American heart is thankful to you and we're asking God to watch over you and to watch over your families," he told Army, Navy, Air Force, Marine Corps and Coast Guard members via video hook-up from his estate and private club in Palm Beach, where he is spending the holidays with his family.
Trump complimented each military branch, but heaped his most effusive praise on the Coast Guard, which impressed him with its rescue operations during hurricane season.
"You've done such an incredible job in Texas and Florida and Puerto Rico," Trump said. "Many Republicans are very happy but, I have to tell you, the people of Florida, Texas, Puerto Rico and lots of other states are even more happy. What a job you've done ... saved thousands and thousands of lives."
Puerto Ricans, however, may quibble with the president's assessment of their state of mind.
Power generation on the U.S. territory is at 65 percent, with nine of Puerto Rico's 78 municipalities still completely in the dark more than three months after Hurricane Maria walloped the island. The U.S. Army Corps of Engineers has estimated power will not be fully restored across Puerto Rico until May. More than 200,000 homes were damaged and more than 30,000 people have lost their jobs, sparking an exodus of more than 200,000 Puerto Ricans to Florida alone.
Trump opened his Christmas Eve by tweeting against those he feels don't support him, including FBI Deputy Director Andrew McCabe and the news media.
After playing golf at his private club in West Palm Beach, the president joined his wife to field calls from children eager to know when Santa Claus would come to town. The calls came by way of a Santa tracking program run for more than 60 years by NORAD, the North American Aerospace Defense Command.
Trump told a caller from Mississippi that the state is "great" and predicted that "Santa is going to treat you very well." He offered encouragement to a caller from Virginia who wanted to find building blocks under the Christmas tree. Trump, who made his name and his fortune building things, said: "That's what I always liked, too."
"Santa moves very quickly. He'll be at your house very late at night when you're sleeping," Trump said. Journalists could only hear his side of the conversations.
Trump ate Christmas Eve dinner with his family before closing the day at church. On the menu: turkey, beef tenderloin, cornbread, creamy kale, popovers, and mashed potatoes and turkey gravy, along with vegetable dishes, seafood and various desserts.
___
Follow Darlene Superville on Twitter: http://www.twitter.com/dsupervilleap