Texas Baptist Men assisting Ukrainians who are now dealing with flooding after dam collapse
DALLAS - The situation in Ukraine has gone from bad to worse.
A war zone has turned into a flood zone in the Kherson region after the partial collapse of a dam.
The White House said it is monitoring the situation.
Meanwhile, Texas Baptist Men is helping with evacuations in the area.
Ukrainians living in the Kherson region, who were flooded out of their homes by a massive dam collapse Tuesday, are slowly making it to dry land thanks to rescuers from both near and far.
"Got a call from them shortly after the dam exploded, saying, here's what we're trying to do and here's the help that we need to be able to get this done," said Rand Jenkins, with Texas Baptist Men (TBM).
The North Texas-based organization currently has one member there spearheading the rescue efforts, with help from local partners.
TBM provided the funding for rafts being used to rescue hundreds of trapped Ukrainians.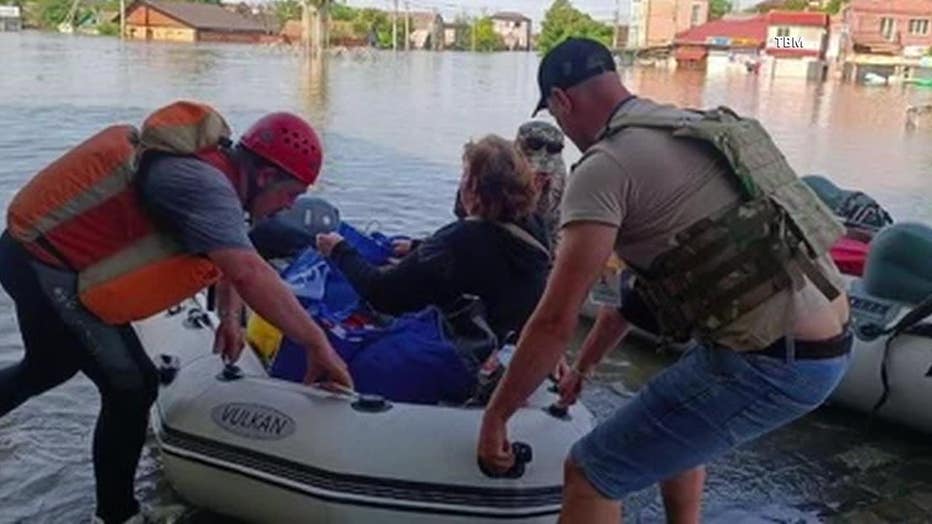 "That's really what we're working on now, is getting them to safer places, providing water, food," Jenkins explained.
On Wednesday, volunteers used minivans to evacuate dozens of Ukrainians from a partner church located right next to the dam.
All of them are leaving with little more than the clothes on their backs.
"It is just another blow in this ongoing, terrible war that's going on over there," Jenkins said.
MORE: Russia-Ukraine Coverage
At a briefing Wednesday, the White House press secretary said the federal government is doing everything possible to help.
"We're still assessing what happened, we are indeed in touch with the Ukrainians," White House Press Secretary Karine Jean-Pierre said. "The damage and devastation we're seeing is heartbreaking."
Accusations are flying over who is to blame.
Ukraine said Russia blew up the dam, which is under Russian control in the Kherson region.
Moscow is disputing that, with Russian state media claiming Ukraine attacked the dam, although it did not provide any evidence.
Safe and clean drinking water is scarce. The Ukrainian military is using drones to drop bottled water to people still trapped in their homes.
Jenkins said TBM and its partners will remain in the region for as long as they're needed.
"They are giving people a shoulder to lean on, to cry on, and ears to hear what's going on to help people process just another blow in their lives," he added.
Jean-Pierre said President Joe Biden will be discussing the incident with other world leaders during a meeting with NATO.