Sheriff: Dog shot, left dead with puppies still nursing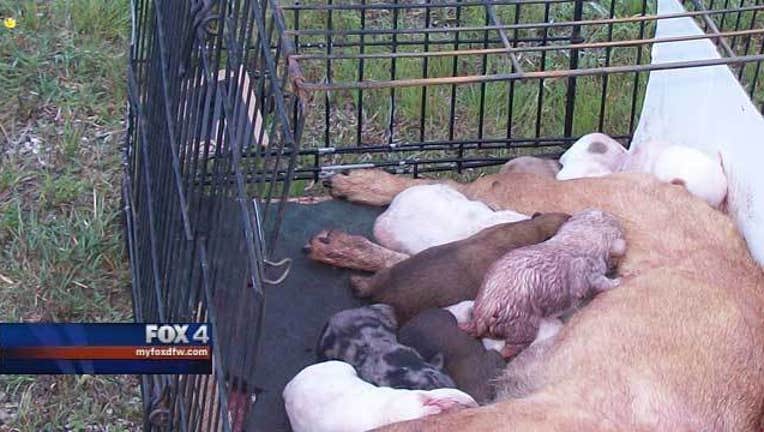 article
Law enforcement officials in Parker County want to find the person who killed a mother dog and left her body in a kennel with nursing puppies.
Sheriff Larry Fowler said a school bus driver reported finding the dogs Wednesday morning on the side of Raley Road, just off Veal Station Road in Springtown.
The mother dog had an apparent gunshot wound to the head and was in the kennel with 10 puppies that were less than two weeks old.
"These puppies were left defenseless and still nursing on their deceased mother," Sheriff Fowler said.
The puppies were taken to the Angels & Outlaws Second Chance Bully Ranch. The organization said on it's Facebook page that was able to place them with two surrogate pit bulls who will help nurse them and care for them until they can be put up for adoption.
In the meantime, deputies are searching for the person responsible for the animal cruelty.
"Parker County does not have an animal problem," Fowler said. "We have a people problem. It's hard to imagine that someone would be so cruel as to execute any animal. But to kill a dog with nursing babies and leave such a gory picture is beyond human imagination."
The mother dog was described as a red shepherd mix with a black muzzle. She appeared to be about 3 years old and weighed about 35 pounds, but should have weighed at least 50 pounds.
The kennel that the dogs were in was made of wire. It had a liner at the bottom that was made from a foam egg crate glued to a cardboard display board.
Anyone with information about the case should contact the Parker County Sheriff's Office at 817-594-8845 or Parker County Crime Stoppers at 817-599-5555.
Anonymous tips are welcome. There is also a reward of up to $1,000 available for information that leads to an arrest and indictment.