One dead after Arlington police chase involving stolen vehicle
ARLINGTON, Texas - A police chase Tuesday ended in a crash at a grocery store parking lot in Arlington.
Investigators say the person who died crashed as he tried to get away from officers. The crash happened near S. Bowen Road at Abram Street in a Kroger parking lot. Fortunately, no customers or employees were in that part of the lot when he lost control.
Authorities say 23-year-old David Hernandez was wanted by Irving police. Arlington officers spotted him and tried to stop him, but he took off. Police say he committed crimes in Arlington and Irving.
Megan Withrow saw part of the chase near AT&T Stadium before picking her daughters up from school.
"At center, there was eight or more police officers flying down center," she recalled.
It started Tuesday morning when Arlington police officers were given information from the Irving Police Department that a wanted man could be in their area.
Just after 2 p.m. in Arlington, an officer saw a truck and person matching the description of the man Irving police were looking for. The officer tried to stop Hernandez, but the driver took off.
"We take pursuits very serious," said Arlington Police Lt. Chris Cook. "These are high-risk incidents, not only for officers but for the public. Right now, our officers have the ability to pursue stolen vehicles."
The chase ended in the Kroger parking lot. The driver lost control of the truck and crashed into a power pole and two unoccupied cars. He died at the scene.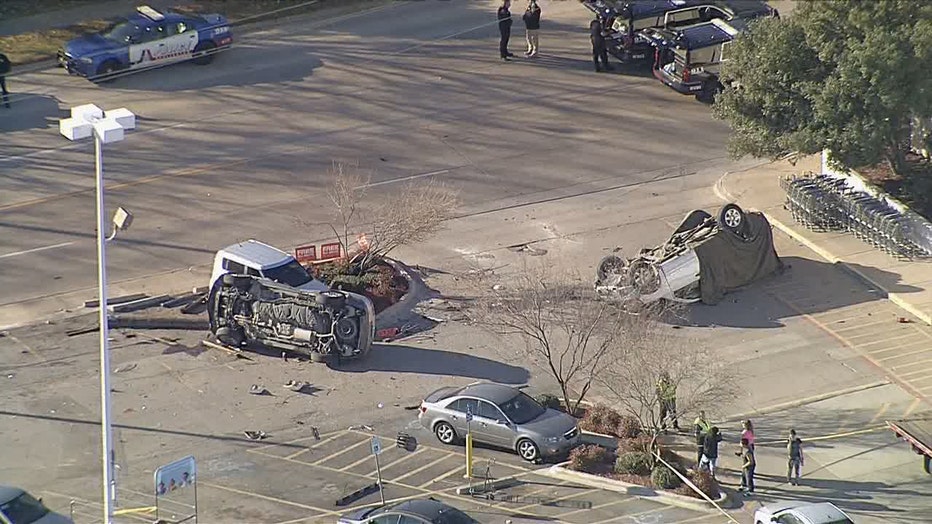 Police say they followed procedure, but the case will be reviewed.
"At the end of the day, it doesn't rest on the cops," Cook said. "The bad guy made the decision to run."
Investigators believe the driver was out on bond. He's connected to a robbery at an Arlington restaurant.
Irving police have not said why they originally put a BOLO out on Hernandez. The department said they would provide an update on Wednesday.