On Your Side: Hurst woman faces $1,000 charge for cell phone she mailed in
HURST, Texas - A Hurst mother has 1,000 fewer reasons to worry tonight.
She had sent a cell phone back to the carrier using their pre-paid label, but the phone went missing.  
She had two choices: pay a hefty penalty or get FOX 4 on her side.
When it was time for Zara Herrera to upgrade her iPhone 12, she said it was an easy call to make.
Herrera loves the AT&T service, however, their customer service wasn't up to par for her. 
Here's why.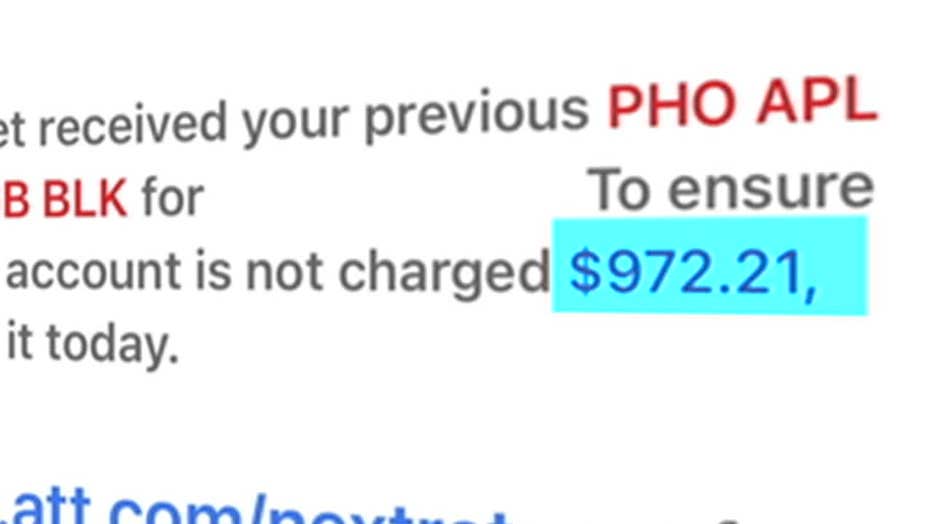 "I was doing a trade-in. So I had an iPhone 12, and I change it for an iPhone 14 Pro purple," she said.
But instead of a purple device, they accidentally shipped a black one.
She contacted AT&T immediately and was told they could swap it out. She just needed to use the pre-paid shipping label provided.
"So I sent it back with the prepaid label. That was October of last year," she said. "And in November, they tell me they never received the phone."
She received a notice pointing to a penalty of roughly $1,000 for the missing device. Herrera called the carrier immediately, who pointed to possibly protracted processing times.
"They tell me don't worry about it. Sometimes it takes longer," she recalled. "So we just leave it like that, and everything is gonna be ok, right?"
That was the last she heard — or so she thought. Five months later in March of this year, she received another notice telling her to pay up or else. 
"I receive another email saying they never received the phone again, and I owe them $1,000," she said. "That's a lot of money. And they tell me, AT&T, that they are going to send me to collections."
Having thought the issue was resolved because so much time had passed, Herrera's tracking number was long gone. She called customer service to get it, but no luck.
"Everyone was giving me different information, but nobody could give me a tracking number," she said. "So for me is like, 'Don't you keep a record of your phones and labels you are sending?'"
So she came back to the post office to try and retrieve a record of the shipment
"I went, and they told me, 'Unfortunately, we don't keep the record after 45 days,'" she recalled. "And one of the guys is like, 'Oh, what happened? Let me guess, it's AT&T again.'"
Herrera thought she was out of options and reached out for help. 
"No one could help me," she said. "But when I reach out to you, something, I don't know, magical happened and finally it was resolved.  So I'm very glad with you."
FOX 4 was able to work directly with AT&T to get Herrera's account properly credited, even though a company spokesperson said "There was nothing to indicate that this device was sent back to us. We are crediting this customer's account as a courtesy."
Herrera says she got a conflicting story when "the office of the president at AT&T" called to tell her the problem had been resolved.
"She was very helpful. She told me, 'Don't worry about it. We received the phone.'"
AT&T calls the incident uncommon, especially when you consider "we handle millions of returns a year without any issues."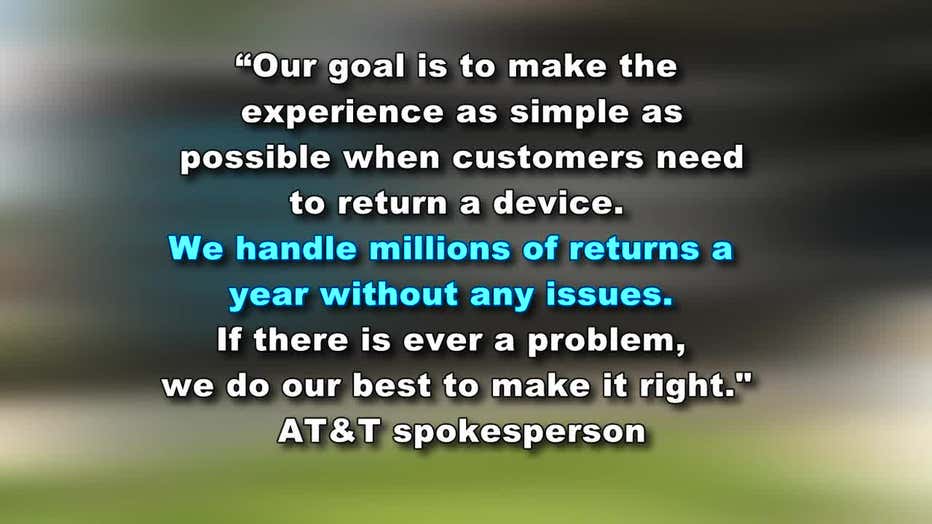 But Herrera points to dozens and dozens of companies online from other AT&T customers who tell the exact same story.
They report missing phones and missing credits and accounts subject to collections with four-figure balances all after using AT&T's own pre-paid shipping label to send back a device. Many of the concerns were posted to AT&T's own website.
AT&T advises "it can take two to three billing cycles for a customer to see the promotional credit from a trade-in on their wireless bill" and suggests customers should save their shipping receipt in case there is a problem.
Herrera held on to her receipt for months before she tossed it. It's something she says was the right call.
AT&T would not agree to an interview but did say in their written reply that they thought it was only fair that we research if Verizon and T-Mobile also have customers who've complained about return shipping.  They do, just not to us.
If you're returning a device, it's best to do so in-store.