Man with Hitler mustache charged in weapons, ammo case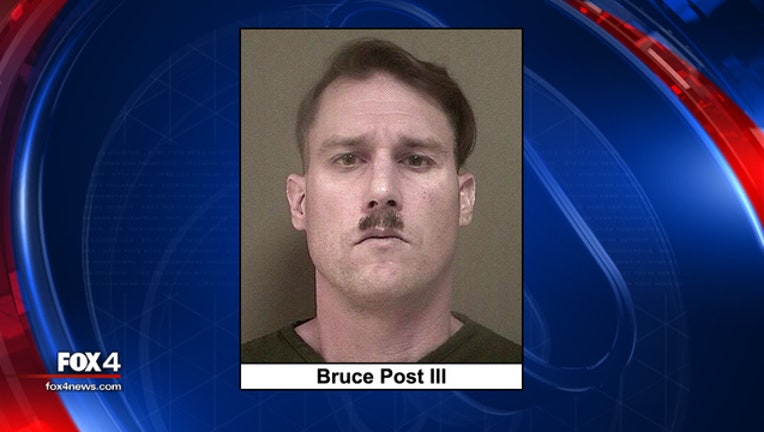 article
LACEY, N.J. (AP) — A man who wore a Hitler mustache and is believed by authorities to be a white supremacist faces numerous charges after authorities say they found an assault weapon, a handgun and several rounds of ammunition in the New Jersey woods.
Lacey police say officers in a multi-agency task force were in the vast New Jersey Pinelands forests on Sunday afternoon looking for trespassers and criminal activity when they came across a suspicious vehicle.
They soon found Bruce Post III, who they said was dressed in combat gear, and another man nearby. Post wore a short mustache centered over his top lip, just like the one associated with Adolf Hitler.
Investigators found an AK-47, a 9mm handgun, eight 30-round magazines, a 100-round drum magazine and other ammunition in the woods. The items were found near the vehicle where the two men were discovered.
Post, 42, who lives in the Trenton area, was charged with illegally possessing a weapon as a felon and several other weapons counts. His bail was set at $400,000 cash.
It wasn't known Monday if Post has an attorney. A person who answered the phone at his home Monday afternoon hung up when they were asked if they had any comment on Post's arrest.
The other man hasn't been charged. But authorities say the investigation is ongoing.
Authorities say they believe Post is a white supremacist largely based on his violent criminal history and comments he made to officers. In addition to the Hitler mustache, he also was wearing German combat gear.
Court records show Post received a five-year sentence in 1997 for aggravated assault with a deadly weapon. He also served 2½ years for hindering apprehension in connection with the 1995 killing of Andrew Whited Jr., whose body was left in a wooded area along Interstate 195 after he was reportedly stabbed nearly 30 times at a party.
Post's younger brother, Joseph, is serving a life sentence for Whited's slaying. Authorities have said Bruce Post cleaned up blood and destroyed evidence in the case.