Leaders aim to hold Ukraine summit in Minsk Wednesday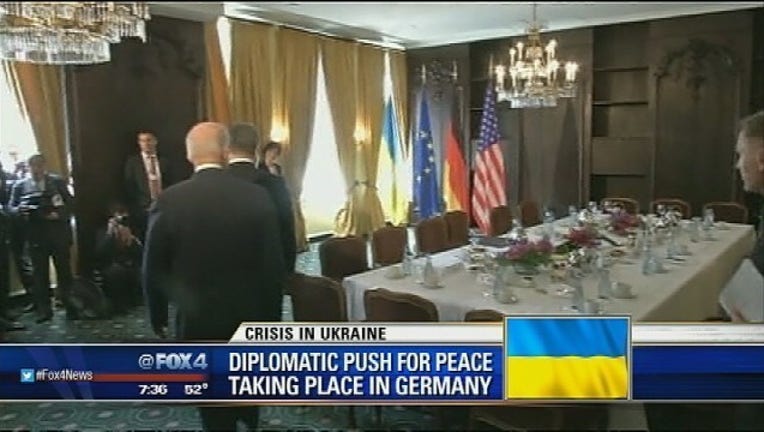 article
BERLIN (AP) -- Efforts to broker a peace deal in Ukraine gained momentum Sunday with leaders of Germany, France, Russia and Ukraine announcing they aim to hold four-way talks this week, even as fighting rages on.
The plan for a meeting Wednesday in the Belarusian capital of Minsk emerged from a phone call between German Chancellor Angela Merkel, French President Francois Hollande, Russian President Vladimir Putin and Ukrainian President Petro Poroshenko.
The aim is to draw up a package of measures that revives a much-violated September peace plan. Preparations for the summit will take place Monday in Berlin with talks between senior diplomats from the four countries.
Ukraine's Poroshenko raised the possibility that the meeting Wednesday could prove to be a breakthrough after months of futile diplomacy.
"They (the leaders) expect that their efforts during the Minsk meeting will lead to the swift and unconditional cessation of fire by both sides," his office said in a statement.
But Putin cautioned that the summit might not come about. "We will be aiming for Wednesday, if by that time we are able to agree on a number of the positions that we recently have been discussing intensely," he told journalists in Sochi during a meeting with the president of Belarus.
Russian Foreign Minister Sergey Lavrov said Russia expects "important decisions" to be made at the summit in Minsk.
Although details of the leaders' proposals have not been revealed, comments over the past several days have indicated what might be key sticking points.
One is how any peace deal would be enforced. In Munich, Poroshenko expressed opposition to any peacekeeper force -- apparently reflecting concern that sending Russian peacekeeping troops into eastern Ukraine could result in a de-facto occupation.
However, some mechanism for monitoring the Ukraine-Russia border to ensure that Russia is not sending troops or equipment to the separatists is key to a real settlement. Ukrainian officials have supported the OSCE conducting such monitoring.
The status of the eastern regions remains contentious. Ukraine last year passed a law proposing what it characterized as significant autonomy for the east, but rebels dismissed it as vague and meaningless. Russia has pushed for ill-defined "federalization" of Ukraine -- presumably code for allowing the east to have significant independence -- but Ukrainian authorities oppose any federalization.
How to separate the belligerents is also unclear. The Minsk agreement in September foresaw each side pulling back its heavy weapons 15 kilometers (9.32 miles) from the lines of engagement. But battlefield positions have changed since then, and the rebels have taken control of more territory, implying that a new buffer zone would have to be mapped.
Volker Perthes, director of the German Institute for International and Security Affairs, said Putin would be going into the talks from a position of strength.
"I think Russia is looking at the military situation and seeing that the separatists have won ground, so why should they back down," he said. "The best thing would be if all sides agree on a form of autonomy."
Any deal that allows Putin to save face while withdrawing Russian troops would be easiest for him to agree, Perthes added.
Underlining Kiev's refusal to allow the separatists a place at the top-level talks, officials said a parallel meeting between the signatories to last September's accord, including Russia, Ukraine and representatives of separatists in eastern Ukraine, will also take place in Minsk by Wednesday.
The announcement of a summit follows days of intense diplomacy by Merkel and Hollande, who traveled to Kiev and Moscow last week in a bid to advance peace talks. It also comes amid growing impatience in Washington, where officials have indicated that the United States may be willing to provide arms to Ukraine.
Merkel is expected to brief President Barack Obama on the state of negotiations during a previously scheduled trip to Washington on Monday.
Dismissing talk of a trans-Atlantic rift, U.S. Secretary of State John Kerry said the U.S. and its European allies are "united in our diplomacy" on Ukraine. Speaking at an international security conference in Munich, he said the U.S. supports efforts by France and Germany to produce a new plan to end the conflict that is now raging in east Ukraine.
"There is no division, there is no split," Kerry said. "I keep hearing people trying to create one. We are united, we are working closely together."
Germany and France oppose the idea of providing arms to Kiev, saying it could lead to an escalation. Russia, which is accused of supporting separatist rebels in eastern Ukraine, has said the introduction of U.S.-supplied weaponry will have grave consequences.
German Foreign Minister Frank-Walter Steinmeier, speaking alongside Kerry, said he considers delivering weapons "not just highly risky but counterproductive."
Kerry said the United States agrees that there is no military solution to the Ukraine crisis that has now killed more than 5,300 people, according to the United Nations.
At the same time, U.S. officials say Obama is rethinking his previous opposition to sending U.S. arms to Ukraine despite fears it could lead to a proxy war between Washington and Moscow. The officials have, however, suggested that any such weaponry would be intended to help Kiev defend itself once a peace agreement is reached.
Republican Sen. John McCain, the chairman of the Senate Armed Services Committee, insisted in Munich that "we must provide defensive arms to Ukraine."
"If we help Ukrainians increase the military cost to the Russian forces that have invaded their country, how long can Putin sustain a war that he tells his people is not happening?"