Lawyer: Kavanaugh accuser may testify with right conditions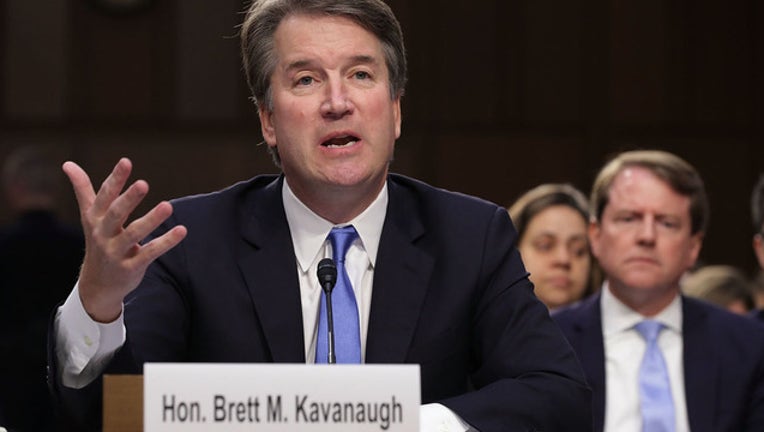 WASHINGTON (AP) - Christine Blasey Ford would testify next week to the Senate about her accusation that Supreme Court nominee Brett Kavanaugh assaulted her when both were high school students if agreement can be reached to "terms that are fair and which ensure her safety," a Ford attorney told the Judiciary Committee on Thursday.
The message and positive tone of the attorney's email breathed new life into the possibility that the panel would hold a dramatic hearing at which both Ford and Kavanaugh could give their versions of what happened at a party in the 1980s in a Maryland suburb of Washington. The allegation has jarred Kavanaugh's prospects for winning Senate confirmation to be a justice, which until Ford's emergence last week had seemed all but certain.
Committee Chairman Chuck Grassley has scheduled a hearing for Monday morning, and he and Senate Majority Leader Mitch McConnell have indicated Monday would be Ford's only chance to make her case.
In one obstacle that must be overcome, attorney Debra Katz's email said a hearing Monday is "not possible" and that scheduling it that day "is arbitrary in any event."
Taylor Foy, spokesman for Republicans who control the committee, said in a written statement, "We are happy that Dr. Ford's attorneys are now engaging with the Committee."
Katz reiterated that Ford, now a psychology professor in California, has received death threats and for safety reasons has relocated her family.
"She wishes to testify, provided that we can agree on terms that are fair and which ensure her safety," Katz wrote in the email, which was obtained by The Associated Press after first being reported by The New York Times.
The email was a sharp turnabout from statements by Ford and her lawyers in the past few days, in which her insistence on an FBI investigation of her allegations and other demands had cast strong doubts on her willingness to appear. Because of that, it had become unclear whether Republicans would even hold the hearing.
The email said Ford's "strong preference" remains that the committee permit a thorough investigation of her claim before she appears. But that wording fell short of a non-negotiable demand.
Grassley had said that in the interest of making Ford comfortable, he'd be willing to let Ford testify in public or private. He offered to send committee aides to her California home to take testimony.
"Dr. Ford has asked me to let you know that she appreciates the various options you have suggested," Katz wrote. The email did not say any option was preferred.
Katz asked committee aides for a telephone conversation later Thursday to discuss terms.