Kennedale grassfire burns 100 acres, damages commercial building
KENNEDALE, Texas - People were evacuated from their homes Tuesday near a large brush fire in the Tarrant County city of Kennedale.
The fire was in a thick, brushy area off Kennedale Parkway and Little School Road. 
Video from SKY 4 shows damage to industrial properties in the area. At one point, flames were just feet away from a passing train.
Firefighters have contained the fire after it burned 100 acres and one commercial welding building. 
The four-alarm fire began in the woods at around 1:30 p.m. with 16 different city fire departments responding to the flames. 
It is unclear what caused the fire to start. But in these conditions, it could be anything from a small train spark to a cigarette butt. 
The building that caught fire was Riley Machine and Welding, and it has lots of highly flammable materials inside. Fortunately, firefighters were able to get it out before it spread to those materials.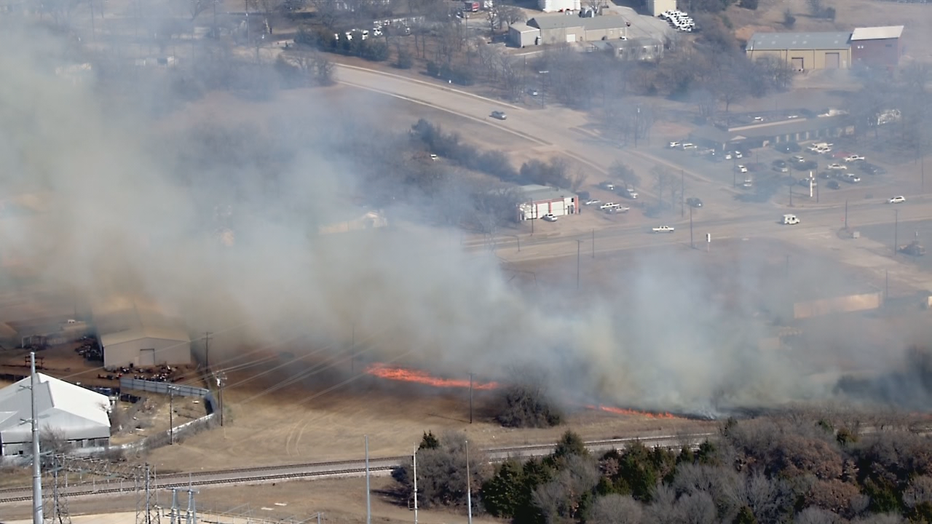 "Always the main concern is going to be firefighter safety. If we don't have anyone whose life is at risk… if it's a structure, we can replace that. We are very apprehensive about sending guys in," said Everman Fire Police Chief Landon Whatley. "We've got it contained at this point, so we're just making sure no more hot spots and no more fires spread."
The grass fire is in a commercial area, and many nearby businesses have been asked to evacuate.
A police officer said there is an area with propane tanks, so they are working to keep the fire from going in that direction. 
Vickie Chandler says she was alone in her home on East Kennedale Parkway fearing the worst when she saw the smoke from this fire just a few hundred yards away.
"My house was filling up with smoke. And as they started shutting down Kennedale Parkway, I knew it was getting serious," she said. "I just knew I was gonna lose everything I own. Because like I said, that's my childhood home."
Around 1:45 p.m. Tuesday afternoon, a Kennedale police officer knocked on her door and said it was time to evacuate.
"And when they tell you to get out, you don't even know what to take. You know you just gotta go," she said.
So quickly grabbed her parrot and left.
"That's my daughter's bird. I couldn't leave him there," she said.
The flames threatened 15 structures.
By late afternoon, the fire was under control, and crews turned their attention toward cleanup and hot spots.
Fires Across North Texas
The fire in Kennedale was just one of several brush fires being spread by gusty winds on Tuesday.
Over in Hood County, grass fires are now 90% contained. The Texas Forest Service sent tanker planes to assist.
One fire burned in a neighborhood near Granbury along the Brazos River but did not reach any homes.
Another larger fire south of Granbury burned about 40 acres of land.
On Monday, a large fire broke near Boyd that destroyed more than 200 acres. That fire has been contained.
MORE INFO: Wise County fire destroys more than 200 acres, threatens homes and livestock
The Texas A&M Forest Service warns of wildfire threats through at least Wednesday due to the dry conditions and high winds.
Texas A&M Forest Service says state resources have responded to more than 176 wildfires that burned 8,418 acres so far this week.
"Texas A&M Forest Service will continue to work closely with our state, federal and local partners in order to protect Texas' citizens and natural resources from wildfire," said Al Davis, Texas A&M Forest Service Interim Director. "We also ask the public to be careful and prevent wildfire ignitions this week."
Adam Turner with Texas A&M Forest Service expects a busy fire season. Thanks to a healthy dose of rain, fire season last year was almost nonexistent.
"So typically when we have a moist year like that, we have a lot of grass growth," he said. "Which leads to the next year when it all dies off, we can have a large and extended fire season."
Turner says that extra brush combined with high wind and low humidity is a recipe for trouble.
A line of storms should be impacting the area late Wednesday night into Thursday morning. It may not be enough rain to hold off more brush fires for very long, but Turner expects fires like the one in Kennedale will be a continued concern for the next several months and encourages everyone to be prepared for possible evacuations.
"Think about if something goes wrong, what do I have to do? What do I have to take? And where do I have to go to be safe?"
The forest service says burn bans are currently in effect in Comanche, Eastland, Ellis, Erath, Jack, Johnson, Hood, Montague, Navarro, Palo Pinto, Parker, Somerville, Tarrant, Wise and Young counties.