TMZ video shows Cowboys owner Jerry Jones's car wreck in Dallas
DALLAS - Dallas Cowboys owner Jerry Jones is out of the hospital and back home after being involved in a car accident Tuesday evening.
Dallas police have not released many details about what happened. The department only said officers worked a two-vehicle crash around 8 p.m. in the area where Harry Hines Boulevard crosses Wolf Street, in the Dallas Victory Park neighborhood.
A woman who lives in the area and witnessed the accident said the other driver appeared to make a left turn and collided with Jones' vehicle.
Video obtained by TMZ Sports shows Jones' car slamming into the side of the silver car as the driver tried to make a left turn from an outside lane. Afterward, Jones walked with a slight limp.
Photo courtesy TMZSports.com.
RELATED: Jerry Jones paternity lawsuit dropped; alleged daughter Alexandria Davis seeks DNA test
"Jones got out of the vehicle and everyone realized it was Jones. I asked him. I said, 'Mr. Jones, are you okay?' He said, 'Yes, I'm fine. I just hit my head,'" said Teresa Murphy, who witnessed the crash.
Murphy immediately knew Jones was driving one of the vehicles involved.
"I'm a Cowboys fan. That's how I recognized him. I watch the Cowboys faithfully," she said. "I seen the driver make, almost like an illegal U-turn, but it was an illegal left turn that he was trying to make and Jones...that's how he T-boned him."
In the video, you can see Jones' brake lights engage and hear his tires screeching on the one-way stretch of Harry Hines.
"Jones was on the left side of him and he tried to cut Jones off and turn in front of him," Murphy said. "He was way over here on this far right side, when he should have been on the far left side."
After the crash, Jones is seen walking in front of the Hyatt House, talking to people, and making calls.
At one point, he pulled up his left pant leg and looked at his leg.
People started to gather at the scene.
"He was a little shaken up, and he was just more in shock, but he was a little shaken up about it," Murphy said. "The other driver was okay. The other driver was walking. Both drivers were shaken up afterwards."
Jones was later taken to nearby Parkland Hospital for what were described as "precautionary reasons." The 79-year-old was treated for minor injuries and released.
Cowboys executive Stephen Jones told the Dallas Morning News his father was resting comfortably at home.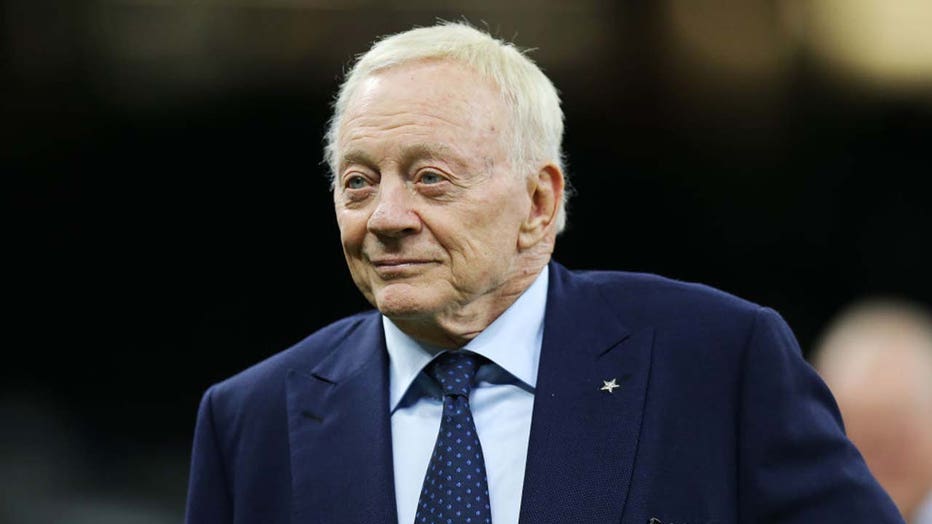 FILE - Dallas Cowboys owner Jerry Jones looks over warm ups before the game between the Dallas Cowboys and the New Orleans Saints at Caesars Superdome on Dec. 02, 2021 in New Orleans, Louisiana.
The Dallas Cowboys have not issued a statement.
LINK: TMZSports.com