Funeral information for Dallas' fallen officers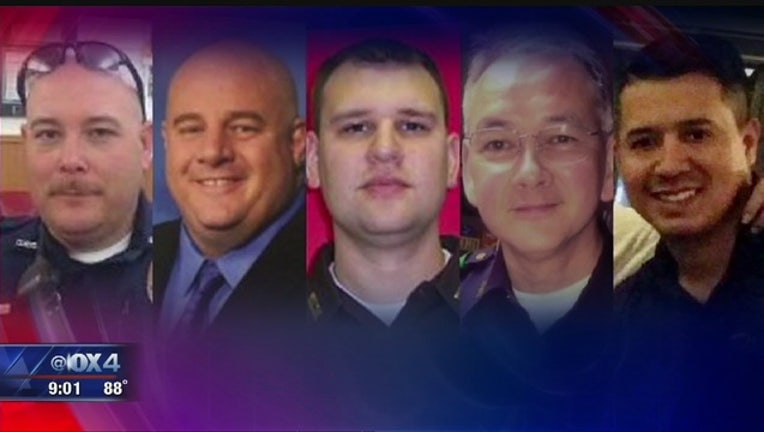 article
DALLAS - Memorial and funeral services start Tuesday for the officers killed in Thursday night's attack.
There is a public visitation for Sgt. Michael Smith scheduled for 6:30 to 10 p.m. Tuesday at the Mary Immaculate Catholic Church in Farmers Branch. The public is also invited to attend a memorial service Thursday at noon at Watermark Church in Dallas, where Smith worked security. His funeral on Wednesday is only for friends and family, and then he will be buried in Restland Memorial Park's Garden of Honor.
There is a visitation for Sr. Cpl. Lorne Ahrens at Prestonwood Baptist Church in Plano Tuesday evening from 5 p.m. to 9 p.m. His funeral will be at the same church Wednesday at 11 a.m., followed by a burial at Restland.
A public memorial for Officer Brent Thompson is scheduled for 10 a.m. Wednesday at The Potter's House Church in Dallas. His visitation Tuesday from noon to 9 p.m. at Griffin Roughton Funeral Home in Corsicana is public, but his funeral and burial service will be private.
A visitation for Officer Patrick Zamarripa will be held on Friday 6 to 9 p.m. at the Wilkerson-Greines Activity Center in Fort Worth. His funeral services will be on Saturday at 11 a.m. and he will be buried at Dallas-Fort Worth National Cemetery.
Visitation for Michael Krol will be from 5 to 9 p.m. Thursday at Prestonwood Baptist Church in Plano. His funeral will be at 11 a.m. Friday at Prestonwood. Krol will be buried in his hometown near Detroit.