Fort Worth police looking for men accused of 7 robberies in 3 hours
FORT WORTH, Texas - Fort Worth police say two men are behind seven armed robberies over a three-hour time.
The young duo had a system. Police say one robber in a black hoodie with a gun went for the money while the other in a pink hoodie was at the door working as the lookout.
"These were not late-night robberies. These are not overnight 24-hour stores. These are convenient stores just after school or just after dinner before people start to turn into bed," said Fort Worth Police Det. Brian Raynsford. "That is concerning to us by the sheer number also, and the fact they are so brazen with their handgun."
Det. Raynsford says the pair hit stores all over starting at 4 p.m. Monday in Haslet and ending three hours later in South Fort Worth at a store just after p.m.
Police say none of the victims were physically harmed by the robbers who got away with a total of nearly $2,000, cigars and scratch-off tickets. Police are worried they might act on threats to use the gun.
"It was used very brazenly and forcefully," the detective said. "Fortunately, no one was hurt in these incidents, which is concerning to us. We would like to stop these people before someone gets hurt."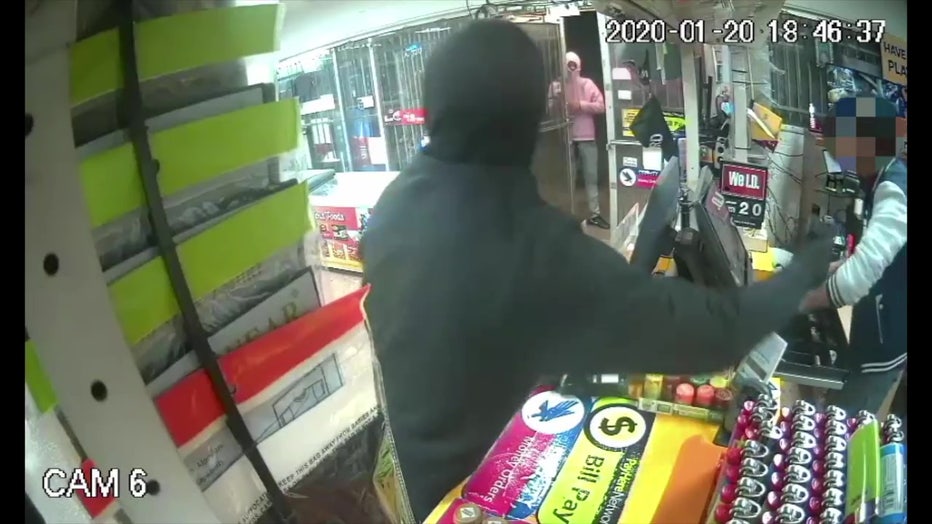 One of the armed robberies happened at the Gordon Groceries Convenience Store on Gordon Avenue. Surveillance video shows children at the register buying items when one robber walked in. The clerk who was behind the counter during the holdup says he was obviously scared having a gun pointed in his face. He said he's still shaken up.
Police say the clerks in all seven robberies did the right thing by giving the thieves what they wanted in hopes of remaining safe.
"We always encourage folks if they are caught in a situation like this to do what you need to do to survive the situation and then be a good witness," Raynsford said. "If that means just handing over the money, hand over the money."
Police say all of the stores had good cameras. They are hoping someone notices something from the video about either robber that can help.