Child among 3 dead in crash with suspected drunk wrong-way driver in Seagoville
SEAGOVILLE, Texas - A child and two women were killed in a head-on crash in Seagoville early Sunday morning in which police suspect the other driver involved was intoxicated.
The wreck happened just after 1 a.m., when Crandall police were called about a wrong-way driver on US Highway 175.
Officers found the blue Chevrolet pickup traveling west in the eastbound lanes and tried to shine spotlights on the truck to get the driver's attention.
The driver, who was the sole occupant of the truck, continued going the wrong way.
Police said the driver entered Seagoville city limits, before crashing head-on with a Toyota sedan near the intersection of FM 1389.
A grandmother, her daughter, and her young grandchild were in the Toyota. They were all killed in the crash. Their names have not been released.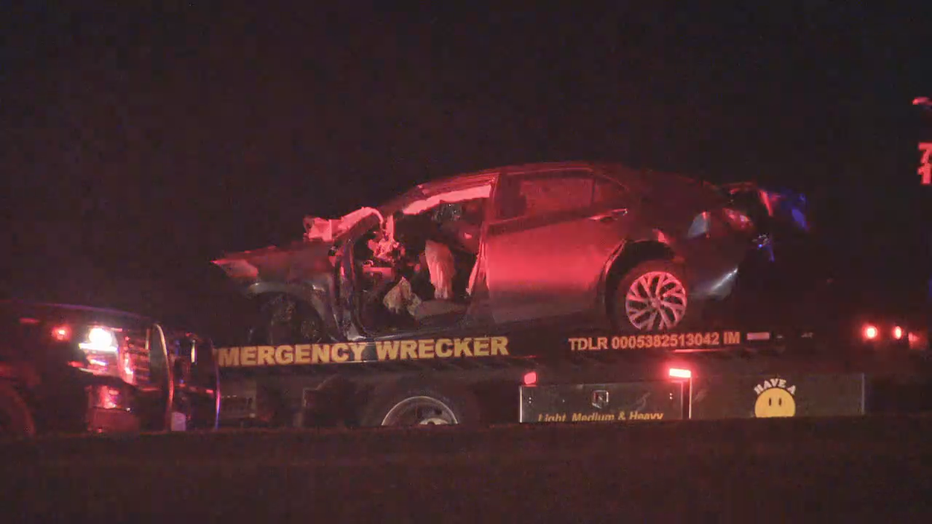 READ MORE: Driver dies in fiery crash in Dallas
The man who was driving the pickup was flown to a Dallas hospital. His name has not yet been released.
A search warrant was executed on the driver to get his blood alcohol level, as investigators suspect he was intoxicated at the time of the crash.
Alicia and Brian Miller were driving home to Gun Barrel City from a concert in Fort Worth. They said the wrong-way-driver nearly crashed into them.
"Whenever I seen them headlights coming at me, I was like man, I didn't know if those were going to be my last moments and I just started thinking," Alicia recalled. "And then I was like, man, I was shaking and I was like we need to call the cops right now."
They called police, terrified for others.
"Man, he's going to hurt somebody," Brian said.
They managed to make it home safely.
Alicia posted to Facebook about the close call, but when she woke up Sunday morning, she saw news articles about the deadly crash.
"And I felt so bad for the family," she said.
The crash happened minutes after they called 911.
"Just four minutes difference, could've been our lives," Brian added. "You know, nobody should have something happen to them just driving home."
"I just knew something bad was going to happen," Alicia said. "You never know when it's going to be your last moments."