Democrat's path to victory in Mississippi: black turnout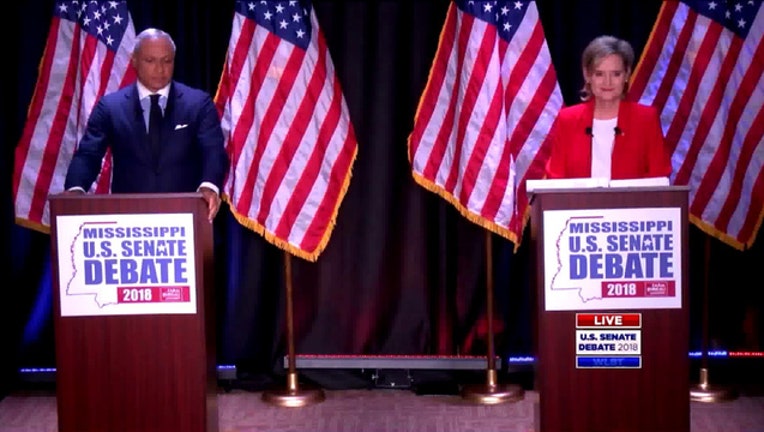 article
JACKSON, Miss. (AP) - The special election for a U.S. Senate seat in deeply conservative Mississippi wasn't supposed to be competitive. But hopeful Democrats are eyeing a narrow path to victory next week by driving up African-American turnout after Republican Cindy Hyde-Smith stirred outrage with her remark to a supporter that she would attend a "public hanging" with him if he asked.
While Hyde-Smith apologized during a debate Tuesday night, opponents say she's at least unconsciously echoing the state's history of white supremacy, and civil rights groups have seized the moment to push black voters to the polls. Democratic presidential hopefuls New Jersey Sen. Cory Booker and California Sen. Kamala Harris traveled to Mississippi to support Espy, who is attempting to duplicate the longshot election of a Democratic senator in neighboring Alabama last year.
But a post-Thanksgiving date - the election is next Tuesday - could depress voting, and Republicans, too, are focused on getting their partisans to vote. President Donald Trump will travel to Mississippi on Monday to attend two rallies for Hyde-Smith, and Mississippi's Republican establishment is trying to push her to victory.
"The turnout game is one you want to win. At this point, a persuasion argument is going to go nowhere. People have their minds made up," said Robert P. Jones, the CEO of Public Religion Research Institute, a nonprofit group that uses polling to study politics, religion and culture.
VoteCast, a wide-ranging survey of the electorate conducted by The Associated Press, showed about a third of Mississippi voters were African-American and that Espy won support from about 80 percent of them, compared to about 20 percent of white voters.
If white voters outnumber black voters 2-to-1 on Tuesday, Espy would have to win 30 percent or more of white votes, a tough task in a state with maybe the most racially polarized electorate in the country. But if black voters rise to 40 percent of the electorate and Espy wins 9 out of 10, he needs less than a quarter of white votes to squeak out a victory.
"Mike Espy doesn't need a huge turnout overall," said Henry Barbour, one of Mississippi's Republican National Committee members. "He needs a huge turnout of his supporters."
At least some Espy supporters are hearing the message. Bernard Williams, a 59-year-old self-employed software engineer, said he's been receiving regular phone calls and texts from the Democrat's campaign.
Williams, an African-American resident of Jackson who voted for Espy on Nov. 6, said the campaign has blanketed African-American churches, fraternities and sororities.
Rich McDaniel, who's running the Espy campaign's turnout effort, said the campaign is asking people, "What is your plan to go vote Tuesday?"
McDaniel, who led field operations that boosted longshot Democrat Doug Jones to a special election victory in Alabama last year, said Espy's campaign wants voters to focus on issues important to them.
"We are treating the African-American vote almost as if it were the swing vote," he said.
Espy also benefits from outside efforts to drive up black voting. While not explicitly endorsing Espy, they almost certainly help him.
"We need to have as many people go to the polls as possible," said the Rev. William Barber II, co-chair of the national Poor People's Campaign. The group is trying to build a nationwide social justice movement against racism, poverty and environmental degradation. Barber led multiple events in Mississippi this week as part of a coalition of groups pushing get-out-the-vote efforts aimed at African-Americans in the name of social justice.
One group under that umbrella is the Mississippi Black Women's Roundtable. Lead organizer Cassandra Welchlin said her group reached several thousand voters before Nov. 6 through child care centers and churches. She said there are as many as 95,000 black women in the state who historically vote in presidential elections but not at other times.
Welchlin says efforts are continuing in the runoff to mobilize voters with the issues of increased wages, expanded health care and more aid with child care.
"We don't want to say 'bombard,' but we're contacting them as much as possible," Welchlin said.
Hyde-Smith, appointed to the post after U.S. Sen. Thad Cochran retired earlier this year, is looking to Mississippi's Republican party organization and Trump's visit.
"He drives turnout on both sides," said Barbour, who is also one of the two leaders of the Mississippi Victory Fund, a super PAC supporting Hyde-Smith. "When Donald Trump comes to town, he's going to have everybody's attention."
Mississippi's Republican Party and Hyde-Smith's campaign have been emphasizing a liberal-conservative split in recent days, and Barbour said a larger turnout favors Hyde-Smith.
"If people vote on taxes, guns, abortion or judicial appointees, she's going to be fine," he said.
In the Jones race in Alabama, some traditional Republicans voted for the Democrat. Others stayed home out of distaste for Republican nominee Roy Moore, who faced allegations of sexual misconduct involving underage girls. Nathan Shrader, a political scientist at Millsaps College in Jackson, said some Republicans may not vote for Hyde-Smith because while praising a cattle rancher at a Nov. 2 campaign event in Tupelo, she remarked, "If he invited me to a public hanging, I'd be on the front row."
"Demobilizing them by having them decide 'I can't go vote for either one,' that becomes beneficial for the Espy folks, too," Shrader said.
But Williams, the black voter who's been hearing from the Espy campaign, fears Hyde-Smith's comments won't matter, or will even motivate some white voters.
"The white conservatives just aren't going to support a black man in Mississippi," Williams said.
___
For AP's complete coverage of the U.S. midterm elections: http://apne.ws/APPolitics . Follow Jeff Amy on Twitter at http://twitter.com/jeffamy .