Runners compete in Dallas Marathon events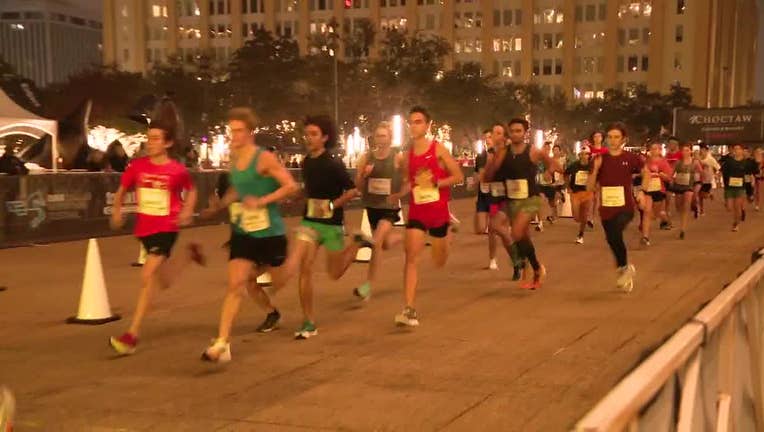 article
DALLAS - The BMW Dallas Marathon came to a close after a weekend packed with events.
The Friday Night Lights Mile had runners at City Hall Plaza in Downtown Dallas. The evening event featured a two-lap Grand Prix-style race around the plaza.
There were races for seniors and kids, and also costume races.
The 5K, 10K, and children's races were Saturday morning.
The weekend wrapped up Sunday with the half, full and ultra marathons.
READ MORE: Dallas Animal Shelter offers $150 to fosters in effort to stop canine flu outbreak
This was the 51st year for the marathon and one of the lead coordinators added a few surprises to the Sunday events, what he calls "wow" moments.
"And a wow experience is nothing more than two or three weeks later, they're having dinner with their family and they say, 'Man, you should have seen the start line of that BMW Dallas Marathon. You should have seen what they did at mile eight,'" said Paul Lambert, president of runDallas.
Organizers said the event draws in 25,000 runners and spectators.
Each year, the marathon also selects a "last man running," who helps raise money for charity.
"They asked me, Hawkeye from New Country 96.3, to be the last man running this year. So, I'm going to actually start the race absolutely last. When everybody starts, I'm going to jump in the race. Everyone I pass I'm going to get a donation to Texas Scottish Rite for Children," said Mark "Hawkeye" Louis, a radio host and member of the Dallas Marathon board of directors.
Over the years, the marathon has raised $4 million for its primary charity, Texas Scottish Rite Hospital for Children.