Concern for schools grows as COVID-19 cases rise in Dallas and Tarrant counties
DALLAS - There is concern about in-person learning as COVID-19 cases surge again in North Texas.
Hotchkiss Elementary in northeast Dallas reopened for in-person learning Monday. The school closed last week because seven staff members tested positive for the virus.
Fort Worth ISD opened in-person access to all grade levels. Duncanville ISD welcomed back students for the first time since last March.
As the coronavirus continues to spread in Dallas County, it opens the door for possible infections in the classroom.
There have been 279 COVID-19 cases in Dallas ISD this month. Thirty-three of them were reported Monday. 
Superintendent Dr. Michael Hinojosa says while COVID spread is seeing an upward trend in the county, he's not ready to stop in-person learning.
"If we get back to 1,000 cases a day like we were earlier in the year, we are at about 500, now that would give me a lot of pause," he said. "Even if I don't have the authority, I will make calls to Austin."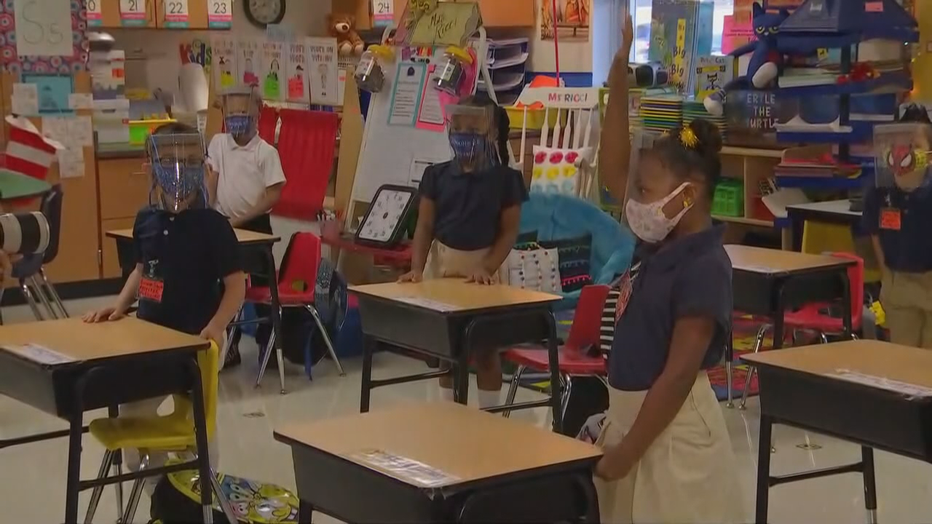 Hinojosa says he and the board's hands are somewhat tied because they have nearly exhausted all the virtual-only time for the semester.
"We are running into a timing issue as well because I was allowed to shut the whole district down for four weeks. Then, the board had the opportunity for four more weeks. Well, three of those weeks are gone, so the board really doesn't have any options after this. So then it'll become an issue for the governor and commissioner to grant more time."
Parents say the district has done a good job communicating. The district has an online dashboard that is updated daily. Dr. Hinojosa says all buildings are cleaned multiple times and protocols are in place for contact tracing.
Dr. Hinojosa says it's possible before Christmas break other schools may have to do what he calls rolling shutdowns.
"That's what we were told by the commissioner: be ready to have rolling shutdowns, and we will continue to do that unless it gets really significant," he said. "But if everybody cooperates with these masks and washing their hands, we got a chance."
Last Friday, Dallas County Judge Clay Jenkins announced that the county is back in the red threat level with all case numbers going in the wrong direction.
Dallas County's Public Health and Education Committee recommends all students remain off-campus when in that high-risk red zone but Dallas ISD said it will continue to offer in-person learning.
The county's health director, Dr. Philip Huang, said he's been mostly happy with how schools have implemented safety measures. But he said if students are still learning in person, the guidelines have to be followed for it to be safe.
"One of the things I think we've seen is the athletic programs, some clusters associated with that and sometimes it's not during the actual play of the athletic event but maybe the locker room situation and some socializing that occurs afterward," Dr. Huang said. "You have to be vigilant throughout all these settings for it to work."
Tarrant County's health director last week recommended only virtual learning. The county's website lists COVID-19 as a "substantial community spread level."
Still, Fort Worth ISD like most other school districts said it's maintaining a hybrid option.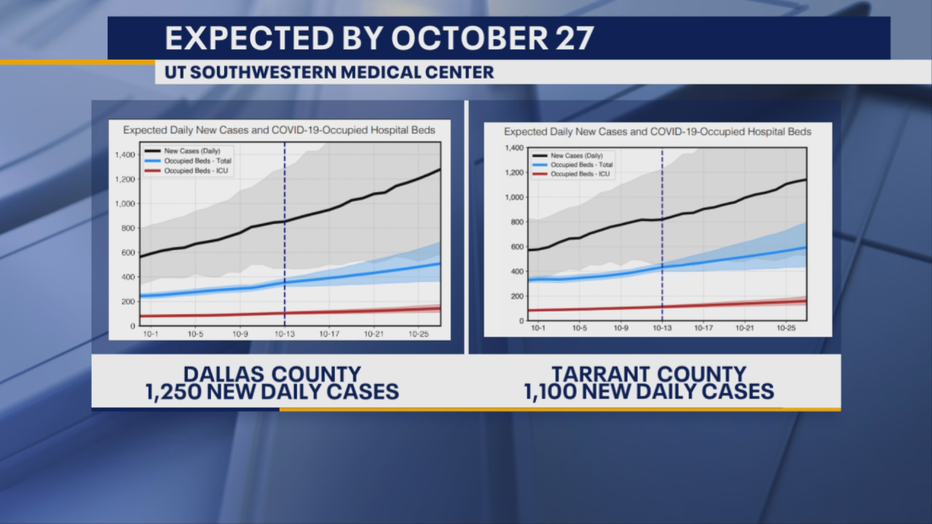 The latest model from UT Southwestern researchers shows a predicted rise in cases – roughly 1,250 new infections per day expected by the end of October in Dallas County and roughly 1,100 in Tarrant County.