CES 2023: AI smart collar aims to take the guesswork out of your dog's health with real-time alerts
Professional-grade veterinary pet biosignals at home could be coming in the form of a smart collar, which Cotons AI claims can extend the life of a dog by offering precise health metrics and transferring them to your phone.
The South Korean company uses artificial intelligence software to detect negative or positive health trends in dogs, offering monthly, quarterly and yearly data updates the company says could help spot the beginnings of various diseases and health issues. 
Sueah Kim, global marketing leader for Cotons AI, said the product will take the guesswork and anxiety out of identifying a pets' health markers and bring technology previously only available in a veterinarian office to the home. 
"When I first became a dog mom, I was at the vet every other week just because I was nervous about their overall health and making sure they have the best quality of life that they can," Kim said.
The company is producing two different versions of the wearable device. 
The Cotons Sense 1 is a smart collar, integrating five sensors that check a dog's temperature, pulse and respiration and can also determine whether the animal is urinating, defecating, coughing, vomiting, drinking, or eating, according to the company. It is intended to be worn 24/7 for consumer use.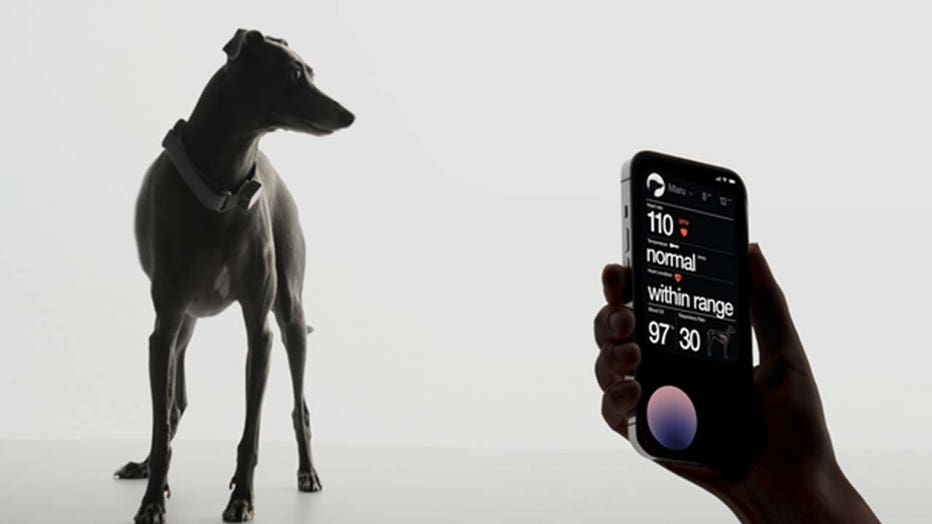 A demo image of a dog wearing the Cotons AI collar with biometric data being viewed on an iPhone. (Cotons AI)
It will include sensors BCG, ICM-42605 6-Axis, ICM-40619 MEMS, as well as a temperature and humidity CMOSense chip all packed alongside aCortex M4 32-bit processor.
Cotons AI also partnered with Jeju National University of Veterinary Medicine to ensure the device works well with challenges that veterinarians face on a daily basis. In addition, the company is working alongside Asia's largest electronic medical record provider to integrate seamlessly with veterinary clinics.
The Cotons Sense 1 Pro is a suit that fits around the torso of the dog, created using a breathable, four-way stretch fabric, and is meant to replace the Holter monitor and other traditional methods of ECG reading. It is specifically designed for post-operation care, with the owner and the veterinarian able to monitor the dog's biometrics in real time from a smartphone.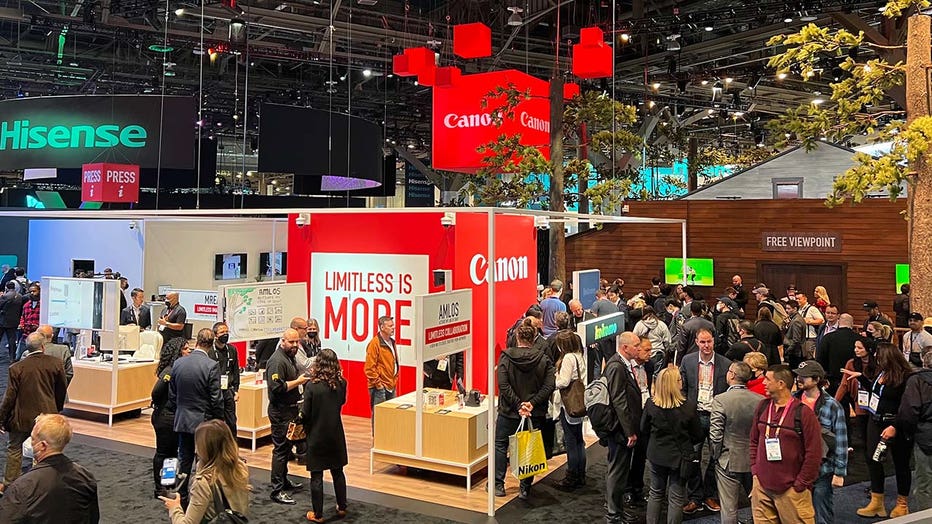 People visit the 2023 Consumer Electronics Show (CES) at the Las Vegas Convention Center on January 5, 2023 in in Las Vegas, Nevada. (Photo by Zhang Shuo/China News Service/VCG via Getty Images)
"You wear it for 24 hours after the initial incident, the veterinarian will send you home with it — they will get that live data, and you will also get notifications on your phone in the event that the animal needs to be brought back into the care of a vet," Kim said. 
Cotons Sense 1 is expected to be available in South Korea during the second quarter of 2023, while the Cotons Sense 1 Pro will be available in Q4 this year.
Both products are also on track to land in other countries in 2024. 
The smart pet collar market is expected to reach $798.69 billion globally by 2028, according to data from Brandessence Market research. The competitive landscape includes high-profile companies such as Garmin, Tractive, FitBark and Whistle.