As Texas A&M comes under fire for its handling of sexual assaults, one alumnus speaks out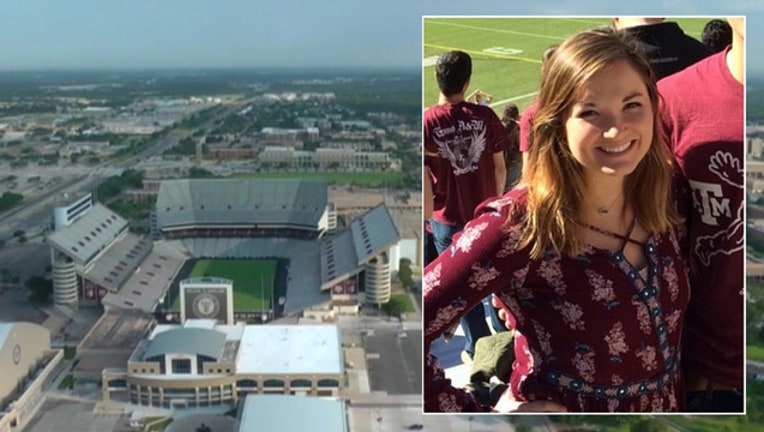 Meghan Romere was destined to be an Aggie, even though she grew up just outside of Austin.
For the Round Rock-native, it was only natural. Her parents went to Texas A&M and so had her grandparents. After she graduated from McNeil High School, she followed in their footsteps.
"It was a big part of my identity," Romere said. "I showed up in maroon to everything."
But the school that the third-generation student loved so much would leave her feeling betrayed after she says it failed to respond appropriately when she reported being sexually assaulted by a football player in the fall of 2016.
She's not the only one who feels that way. A collection of current and former students has come forward in recent weeks with similar stories about how, in their opinion, A&M failed them after they reported assaults. Like Romere, some are saying that they were assaulted by athletes. Their stories have sparked a hashtag, #MeTooTAMU.
FOX4 does not usually identify victims of sexual assault, but Romere wants her name to be known. She wants people to know her story which she made public in a social media post.
According to Romere's post, she was working as a tutor to football players in October 2016. One morning she tutored Kirk Merritt, then an Aggie receiver who was redshirting after he transferred from Oregon. During the session, Romere says that Merritt began to masturbate in front of her. She got up and left the room.
Romere reported the assault to her supervisor later that night. The next day, she met with her supervisor and an athletic department official. That's when she learned that Merritt had done the same thing to another female tutor earlier that morning.
"They dropped the ball and allowed him to assault another tutor after I reported it," Romere said. "They should have taken me more seriously and did everything they could to make sure that he wouldn't be in another tutoring session. They failed to do that."
The two women reported Merritt's actions to the police. The school also became involved, subjecting Merritt to its disciplinary process because he violated the school's code of conduct. Aggie head coach Kevin Sumlin suspended Merritt from the football team four days later, but he was allowed to remain in school while the disciplinary process played out.
Two weeks after the incident occurred Merritt was arrested and charged with two counts of indecent exposure. The athletic department suspended him from the team indefinitely. He maintained his innocence, saying a bad case of jock itch made his penis fall out of his pants.
In the following months, Romere and the other woman appeared in front of a university conduct panel and relived their ordeals, only for the panel to find Merritt not responsible. While the records from these kind of hearings are confidential, Romere says that the panel said it believed her and the other woman -- but couldn't prove that Merritt's motives were sexual.
"We were just disgusted by that," Merritt said. "They said 'We're sorry that you're offended, but we can't charge him with anything' and they just left it at that."
They appealed and earned the right to a new hearing. On the morning when it was supposed to have taken place, the two were kept waiting for three hours while the people who were supposed to hear the case spoke with the university's general counsel.
Romere later found out that the university disciplinary charges against Merritt had been downgraded to sexual harassment, which meant that instead of being victims to a crime, she and the other woman were now classified as witnesses. They wouldn't have any further say in the university's proceedings.
"They changed the rules," Romere said. "That's when we realized just how deep this culture of victim abuse ran at A&M. It wasn't just that they let him off, because even after we appealed it they did everything in their power to protect this kid to the determent of me and the other victim. We felt violated again by the university. I still get mad just thinking about it."
Two days later, Merritt was reinstated and Romere says that she and the other woman were forced to sign no-contact orders which stated that they couldn't even be in the same building as him. And it was their responsibility, not Merritt's, to make sure that they were in compliance. She felt as if they were being treated as the perpetrators.
"The assault was traumatic by itself, but the assault by the university was also traumatic," Romere said. "They completely invalidated any claim I had to my victimhood and that was mind-blowing coming from someone who is supposed to be protecting me and educating me."
Romere says the order rendered her unable to attend events where the football team was present. Her support for the school's athletic programs has since withered away.
"A&M football and sports is a big cultural piece of my family," Romere said. "I don't feel comfortable participating in that anymore and that's really hard for me."
She thinks that the university offered Merritt extra protection because he was an athlete, and cites another woman's story about being assaulted by a swimmer as proof that A&M is willing to throw its students under the bus to protect the school's reputation. The male swimmer filed a Title IX lawsuit against the university on Monday, accusing it of treating him unfairly and claiming he was wrongly disciplined.
"I believe [in both cases] that the fact that these men were athletes made a huge difference because Texas A&M spends a lot of money on its athletic department, and we were potentially upsetting their profit margins," Romere said. "That was just unacceptable to them."
Merritt left the football team in April 2017. He initially pled not guilty to two charges of indecent exposure, but later pled no contest that July. He was sentenced to two years of deferred adjudication and 40 hours of community service.
Merritt played the 2017 football season at a junior college and is now playing at Arkansas State.
When asked for comment, Arkansas State officials provided a Jan. 2018 article from the Arkansas Democrat-Gazette that included statements from the university's chancellor Kelly Damphouse and its football coach Blake Anderson. In the article, the officials said that they had heavily vetted Merritt before allowing him to come to the school.
"This is one that we felt strongly [about]," Anderson told the paper. "Once we talked to everyone that we could who knew the young man, knew how he carried himself both before and after – [we] felt he deserved another opportunity. Legal counsel all felt the same." 
Merritt did not respond to multiple requests for comment. 
It took Romere more than a year and a half to come forward with her story. She was inspired by others who had been done the same thing. She also wanted to encourage other survivors to come forward and help people understand their plight. It's an issue that extends well beyond College Station, and Romere just wants to do her part to combat it.
"Everybody has this story," she said. "If it didn't happen to you it happened to a friend or to a sister. It happened to your mom. [There's] always people coming up to me and saying 'Wow, this happened to me. This happened to a friend. Let's do something about it.'"
A Facebook group that Romere is a member of contains countless stories from women who have been through the same thing at A&M. They're fed up and want answers.
"I hope that we are able to create lasting change within the system that will allow students a safe place to go to school and a voice for when things do happen," Romere said. "The university can't stop these things from happening but they can make sure that these victims are taken care of and that the perpetrators are taken care of accordingly, and it's not doing that right now."
On June 15, the university issued a statement that pledged to review its procedures for handling sexual assault cases.
As for Romere, she's been overwhelmed by the outreach from Aggie alumni. They're telling her that they are on her side. That they are standing with the survivors of sexual assault on the school. It's restored her faith in the school a bit, but she's still unsure if she'd allow her family to send another generation to College Station.
"If things don't change, I would be wary of sending my children to A&M," she said. "But I don't know. It's such a big part of my family."