Woods a winner again for 1st time since 2013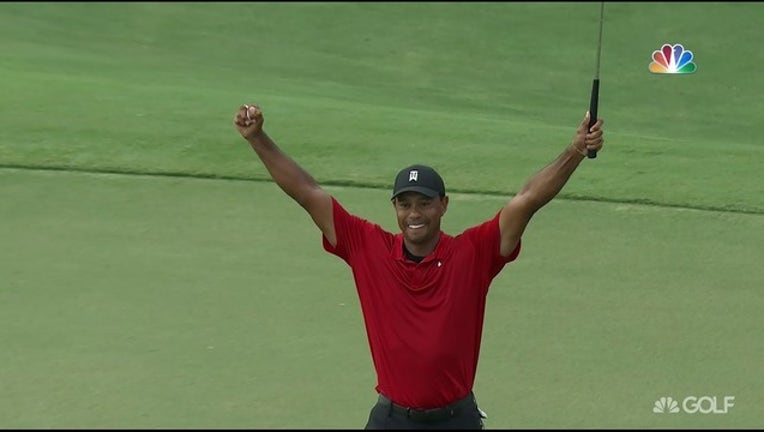 article
ATLANTA (AP) - The Latest on the Tour Championship (all times local):
5:55 p.m.
Tiger Woods is a winner again, capping off one of the most remarkable comebacks in golf history.
More than five years after his last win, after four surgeries on his lower back that left him wonder if he could ever play again, Woods ended his comeback season with a dominant victory at the Tour Championship.
He nearly won the FedEx Cup, too, until Justin Rose survived a late meltdown with a birdie on the final hole.
But this day was all about Woods, who sent thousands of fans into delirium at East Lake watching the return of golf's biggest star.
5:30 p.m.
Tiger Woods has a three-shot lead with three holes to play, and now the Tour Championship has a few other developments.
Justin Rose, four shots behind Woods as he stood on the ninth tee, has made four bogeys in eight holes and is tied for sixth. If he finishes that way, Woods will win the $10 million prize for the FedEx Cup by winning the Tour Championship.
Dustin Johnson finished with a 67 and is in third place. That might be enough to return him to No. 1 in the world.
So far, it's been a great day for Woods. Not so much for Rose.
5 p.m.
Tiger Woods returned to golf last December at No. 1,199 in the world ranking.
Ten months later, he could go to as high as No. 13.
Woods dropped one shot after he made the turn, answered with a 12-foot birdie putt on No. 13 and has a five-shot lead with five holes to play in the Tour Championship.
He is playing like he did a decade ago, and the outcome seems familiar with no one putting together much of a challenge at East Lake. Hideki Matsuyama and Rickie Fowler have posted the best rounds Sunday at 65.
4 p.m.
Tiger Woods has a five-shot lead and is nine holes away from his first victory in more than five years.
His closest challenger is Justin Rose.
Of the final six players to tee off Sunday, Woods is the only one who was under par for the final round. And he started with a three-shot lead.
Rory McIlroy is in the final group with Woods and went the other direction. He hit a wild tee shot to the right into the tree and made double bogey on No. 7 after a penalty drop, and then hit another drive into the crowd on the right for bogey at No. 8.
Woods still had an outside shot at the FedEx Cup if he were to win, though he would need Rose to post a big number on the back nine.
___
3:30 p.m.
PGA Tour Commissioner Jay Monahan was on the first tee at East Lake knowing exactly how big a day it might be for the PGA Tour.
And an awkward one for the tour.
Tiger Woods had a five-shot lead after six holes of the final round, and there is no other player that generates interest in the sport, especially after the back surgeries he has overcome. Crowds were huge. TV ratings were at 15-year highs.
Also at stake Sunday was the FedEx Cup, and Justin Rose was in the best shape to win. Rose would earn $10 million for what the tour considers its biggest prize. And there's a chance no one will even notice.
___
3:15 p.m.
Tiger Woods has gone from not knowing if he would ever play golf again to the verge of winning.
Woods started out with a three-shot lead Sunday in the Tour Championship, and it took only four holes for him to stretch the lead to five over Justin Rose. The gallery at East Lake was enormous in anticipation of Woods winning for the first time in more than five years.
It would be his 80th title on the PGA Tour and hold a special place as his first trophy after four back surgeries.
Woods opened with a birdie, while Rory McIlroy made bogey from the bunker on the fourth hole. Also trying to chase Woods was Rose, who was poised to win the FedEx Cup and the $10 million prize.