Tempers flare as Astros beat Rangers 6-2 in series opener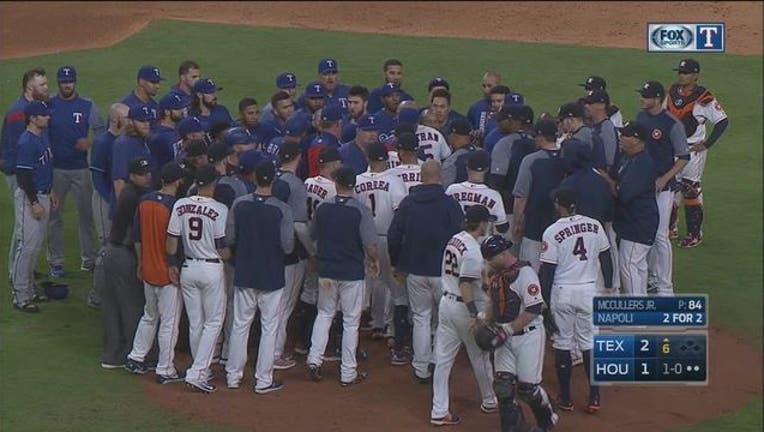 HOUSTON (AP) -- Jose Altuve, Carlos Correa and Yuli Gurriel each hit RBI doubles in a five-run seventh inning that lifted the Houston Astros to a 6-2 win over the Texas Rangers on Monday night in a game that included a benches-clearing tussle. 
Chris Devenski (2-1) struck out two in 1 2/3 scoreless innings for the win. Ken Giles pitched a scoreless ninth for his seventh save. 
Andrew Cashner (0-3) had already plunked both Altuve and Gurriel when Lance McCullers threw behind Mike Napoli with two outs in the sixth. He took a couple of steps toward McCullers while yelling at him and McCullers did the same. Astros catcher Brian McCann quickly got in Napoli's face and, after a few seconds, players from both benches began spilling onto the field. Players from both teams did some pushing and shoving, and Springer held back McCullers as he continued to bark at Napoli. 
Order was restored after a couple of minutes and both teams received warnings, but no one was ejected before play resumed and McCullers struck out Napoli.