Sooners' loss leaves Big 12 looking like playoff outsiders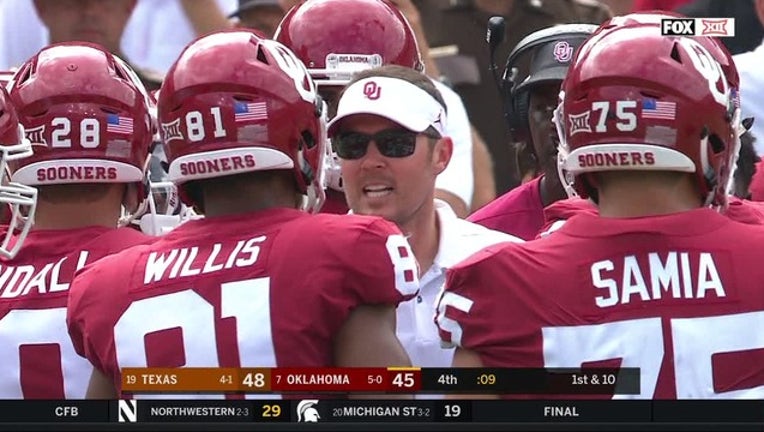 article
KANSAS CITY, Mo. (AP) - Oklahoma's chances of reaching college football's playoff may have been washed down the Red River last weekend, and there is a good chance the Big 12's championship aspirations went right with them.
The Sooners were the clear front-runners to not only win the league but crash the four-team playoff. Their loss to Texas on a last-second field goal dealt them a crushing defeat. Yes, 13 of the 16 teams to reach the playoff the past four years have had a loss, but Oklahoma suddenly finds itself in a rather unenviable position of having to leapfrog several contenders from other conferences.
Assuming, of course, that they win out. And that's no sure thing given their remaining schedule.
"We have been as good as anybody in the country the last three years of responding to the very few losses we've had," Sooners coach Lincoln Riley said. "We've got a track record right there that you could put up against team in the country and that's absolutely what we expect to do again. It's going to take a lot of effort, a lot of hard work. We've got to get better in a lot of areas, but we've got fight."
The Sooners' loss leaves unbeaten West Virginia as the leading playoff contender from the Big 12.
The Mountaineers didn't engender a lot of confidence last week, though, when Will Grier tossed three interceptions in the end zone in a struggle at home with lowly Kansas. And their back-loaded schedule starts with Iowa State and includes a trip to Texas and games against TCU, Oklahoma State and the Sooners.
Oh, and the return of the Big 12 title game means another difficult matchup.
Perhaps their relatively weak schedule through the first five weeks is the reason the Mountaineers have yet to earn much nationwide acclaim. Or perhaps it's because of their brutal remaining schedule.
One thing is certain: They weren't done any favors by Hurricane Florence, which robbed them of a non-conference game with North Carolina State that would have done wonders for their strength of schedule.
Still, they're 5-0 and, as coach Dana Holgorsen said, "We'll take it."
Then there are the Longhorns, who were written off after an early loss to Maryland. They bounced back to beat consecutive ranked teams in Southern California and TCU, exorcised nearly two decades' worth of demons by winning at Kansas State, and topped the Sooners in their annual tilt at the Cotton Bowl.
The loss to the Terps came at the right time for a team that still harbors playoff aspirations. And remember, Ohio State lost to unranked Virginia Tech in 2014 before winning the championship.
"When we got in that locker room, in the Sunday team meeting (after Maryland), we talked to each other and there was no finger pointing. We were just disappointed," Texas coach Tom Herman said. "But we all understand that game was not going to define our season. How we responded to that game would.
"We learned from the mistakes," he added, "and thus far we've responded tremendously."
What's working against Texas, and the rest of the league, is that the Big 12 has taken its lumps against other Power Five conferences. Along with the loss to Maryland, its teams have lost to Duke, Ole Miss and Mississippi State, and those defeats may be more damaging than the helpful wins.
Oklahoma cornerback Tre Brown was quick to point out that the Sooners are not out of the race. Yes, they fired defensive coordinator Mike Stoops this week, and the Sooners have a week off to stew over their loss to the Longhorns.
But they fought back from a big deficit to make it a game against Texas, and with a Heisman Trophy contender in quarterback Kyler Murray and plenty of talent, they still have the makings of a playoff team.
The road to that point is a whole lot tougher, though.
"The comeback just shows we're special," Brown said. "We have a lot going for us and we got so much more that we can continue to grow on."
___
More AP college football: https://apnews.com/tag/Collegefootball and https://twitter.com/AP_Top25