Several Cowboys players facing trouble as training camp starts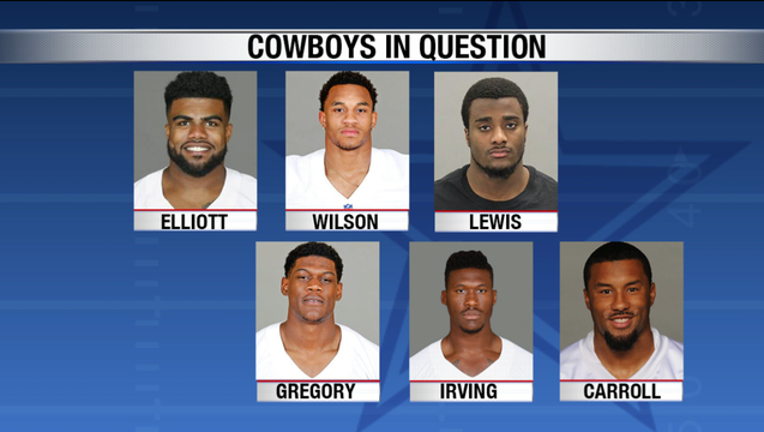 article
OXNARD, Calif. - The Cowboys may be a favorite for a winning season but there's plenty of concern about the off-field distractions.
FOX 4's Mike Doocy reports live from training camp in Oxnard, Calif., where it's sunny and 64 degrees outside. He says the Cowboys will practice for the first time Monday at camp. They'll have a walk through in the morning and then practice in the afternoon.
During the opening news conference, Sunday Coach Jason Garrett and owner Jerry Jones spent most of the time talking about all of the players in trouble. That leaves Jerry longing for the good old days.
"Boy I had a wonderful time before this social media hit. I feel sorry for everybody that's got to go through the years I had when no social media was there," he said.
Social media is a game changer. It shines that light a little more brightly on Jerry and his players. But the fact is that more than half a dozen Cowboys enter this camp with possible legal trouble or league sanctions hanging over their heads, including running back Ezekiel Elliott.
Jerry lobbied hard Sunday against a suspension for Zeke. In his mind, Zeke is absolutely innocent.
"I reviewed everything," Jerry said. "There is absolutely nothing, not one thing that I've seen that has anything to do with domestic violence."
"We have 90 football players on our team right now. We love the character of our team. Having said that, we have had some issues and some incidents here over the off season and we'll address those issues. There's a standard that we have here with the Dallas Cowboys, behavior on and off the field," Coach Garrett said.
Meanwhile, Zeke is reportedly looking at a suspension for an alleged domestic violence incident that happened over a year ago. He was never charged. Again, Jerry is disappointed by the length of that investigation. He doesn't think it's a case of domestic violence.
Rookie cornerback Jordan Lewis, a third round draft pick, will miss the opening practice of training camp because he's on trial in Michigan for domestic violence. His ex-girlfriend claims he grabbed her by the neck and held her down earlier this year. He denies it.
Defensive players David Irving and Randy Gregory are out with suspensions from the league. Cornerback Nolan Carroll and linebacker Damien Wilson are also facing possible suspensions for drunken driving and aggravated assault charges respectively.
But those eligible to play will practice Monday.
It's inevitable that young guys will get into trouble. Doocy wonders why Coach Garrett doesn't talk about the fact that they're disappointed with these guys.
"There's just such a defensive posture. They don't want to admit any significant problem and we just go around and around there," he said.