Seguin OT goal vs. Devils keeps Stars alive in playoff chase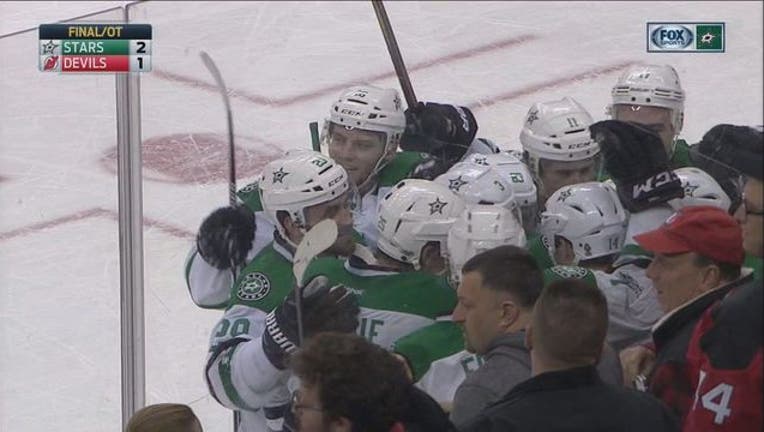 article
NEWARK, N.J. (AP) - The Dallas Stars know they are going to be eliminated from playoff contention in the next couple of days, so being on the ice now is about playing for each other.
Tyler Seguin scored on a power play 20 seconds into overtime, and the Stars staved off elimination by rallying to beat the New Jersey Devils 2-1 on Sunday.
"Every day, we're going to come in, work hard, and play with pride and play for each other," Seguin said. "We had a time period there we just weren't being professionals. We didn't have enough effort out there and didn't play for each other. But we want to play with pride and want to finish off the rest of the year work hard and try to win every night."
A loss to the Devils would have ended the Stars' playoff chances. But they found a way to win.
Ales Hemsky also scored a power-play goal with 6:36 left in regulation to tie the game and Kari Lehtonen made 20 saves for Dallas, including a stop on a short-handed breakaway attempt by Blake Pietila about a minute before Hemsky tied the game.
"We have to give Kari a lot of credit for covering that one up because if Kari doesn't make that save, probably the game is over," Stars coach Lindy Ruff said. "That was big at a big time in the game."
Seguin got his 25th goal after Devils defenseman Steven Santini was called for cross-checking with 54 seconds left in regulation. New Jersey killed off the 5-on-4 power play, but the Stars scored in OT on Seguin's shot from between the circles that beat Keith Kinkaid, who made 30 saves in an outstanding effort.
Jamie Benn and defenseman John Klingberg worked the puck along the boards in front of the Dallas bench before Klingberg made a no-look pass to Seguin cutting down the middle for the game winner.
"They were really pressuring Jamie and Klinger and I just tried to find a soft spot skating in," Seguin said.
The loss was the second in as many nights for the Devils and their 13th in 17 games (2-13-2). It also came just one night after New Jersey's playoff hopes were extinguished for the fifth straight year in a loss to Carolina.
"We took two penalties there and they capitalized on both of them," Devils captain Andy Greene said. "We have to do a better job in the offensive zone, create more and get that second goal and work harder. We just can't hope we get that second one. We have to make sure we will it into the net."
Blake Coleman , who was born in Plano, Texas, scored his first NHL goal for New Jersey, beating Lehtonen at 11:02 of the first period after blocking a pass by Klingberg.
"I am pretty familiar with a lot of guys in that locker room," Coleman said. "So guys like Jamie Benn coming up and saying: 'Congrats' is pretty special and I will be able to remember that and share with friends and family back home."
Hemsky tied the game after Devils defenseman Ben Lovejoy couldn't get the puck out of the zone. Dallas defenseman Stephen Johns found Hemsky in the right circle. His initial shot was blocked by Greene, but the puck came right back to him and he beat Kinkaid between the pads for his fourth of the season.
"I don't know if they were contained for 55 minutes, they had their fair share of opportunities," Kinkaid said. "I felt good and we have to be able to get that dagger goal and finish our opportunities."
NOTES: Greene played in his 700th game, all with the Devils. ... Dallas F Curtis McKenzie and Devils D Damon Severson had a short fight late in the second period. ... The Devils beat the Stars in overtime earlier this season.
UP NEXT
Stars: At Montreal on Tuesday night for the second-game of five-game road trip, their final games away from home.
Devils: Host the Winnipeg Jets on Tuesday night in a makeup of a game postponed by snow on March 14.
___
Follow Tom Canavan at http://twitter.com/APTCan