Rangers trade struggling reliever Sam Dyson to Giants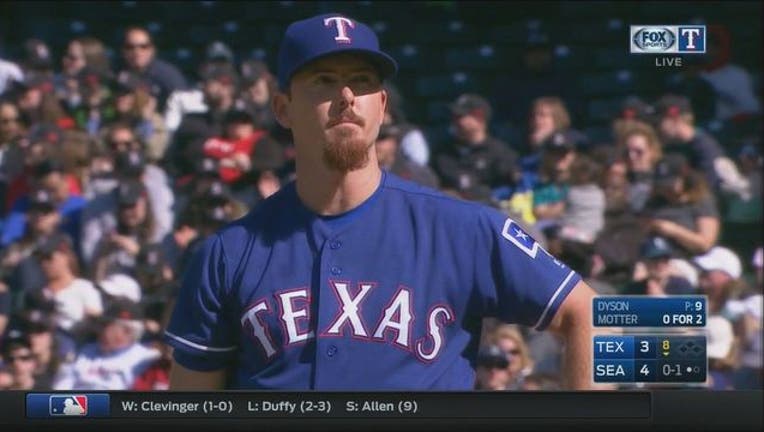 article
ARLINGTON, Texas (AP) - Struggling reliever Sam Dyson was traded to the San Francisco Giants on Tuesday night, less than a week after he was designated for assignment by the Texas Rangers.
The Rangers announced the deal during their game against the New York Mets. Dyson is going to the Giants for a player to be named or cash, and Texas will pay the Giants $1.5 million to cover a portion of the approximately $2.25 million remaining of his $3.52 million salary this season.
Dyson was the Rangers' closer last season when they won their second consecutive AL West title. He also was a key reliever for Team USA when it won the World Baseball Classic in March, tossing six scoreless innings over five appearances.
But he lost his closer role in Texas after he blew his first three save opportunities two weeks into the season. The Rangers informed the right-hander he was being designated for assignment after he gave up two homers and three runs in the 10th inning of a home loss to Tampa Bay last Wednesday.
"Here's a guy who doesn't have a lot of time in, but he has a lot of experience pitching late in ballgames. He has a good arm. Got off to a bit of a rough start there in Texas but we're hoping a change of scenery will serve him well," Giants manager Bruce Bochy said in Milwaukee, where his team lost 5-2 to the Brewers.
The Giants transferred left-hander Madison Bumgarner (left shoulder strain) to the 60-day disabled list to make room for Dyson on their 40-man roster.
Dyson, who had 38 saves last season, was 1-6 with a 10.80 ERA in 17 appearances and blew all four of his save opportunities for Texas this year.
"There were a number of teams that checked in, varying degrees of interest," Rangers general manager Jon Daniels said. "Teams understood this was not a typical DFA. While Sam struggled this year, he performed at a really high level last couple of years, and the spring, and saw it as a pretty good chance for a bounce-back. We knew going into it, the interest would be greater."
Daniels said Dyson, who has a sinking fastball with a velocity in the mid-90s (mph), is healthy.
The Rangers acquired Dyson at the non-waiver trade deadline in 2015, getting him from the Miami Marlins for two minor league prospects.
Toronto picked Dyson in the fourth round of the 2010 draft and he made his major league debut with the Blue Jays in 2012 before pitching for Miami and Texas. He has a career record of 12-15 with a 3.54 ERA and 40 saves in 203 major league games.
"We all have our hiccups in this game but if we can get him back on track, he certainly can help us in those late innings," Bochy said.
Daniels said he likes the potential of what the deal can bring the Rangers in return. The player to be named can't be someone who is currently on San Francisco's 25-man roster.
Texas will pay San Francisco $1.55 million by Oct. 1, and the Giants will pay the Rangers $50,000 by Nov. 15.
___
AP freelance writer Andrew Wagner in Milwaukee contributed to this report.
___
More AP baseball: https://apnews.com/tag/MLBbaseball